Monday, March 16th, 2015
---
TEN PIGS: An Epic Bath Adventure
will be published on April 28th!
I have a brand new book coming in April! Ten Pigs: An Epic Bath Adventure will be published on April 28th by Orchard Books, an imprint of Scholastic.
This book is full of epic, splashy fun and a LOT of pigs! Honestly, it was hard to fit them all in. I'll tell you much more about it soon, but for now check out this new video teaser. Enjoy!

Saturday, February 14th, 2015
---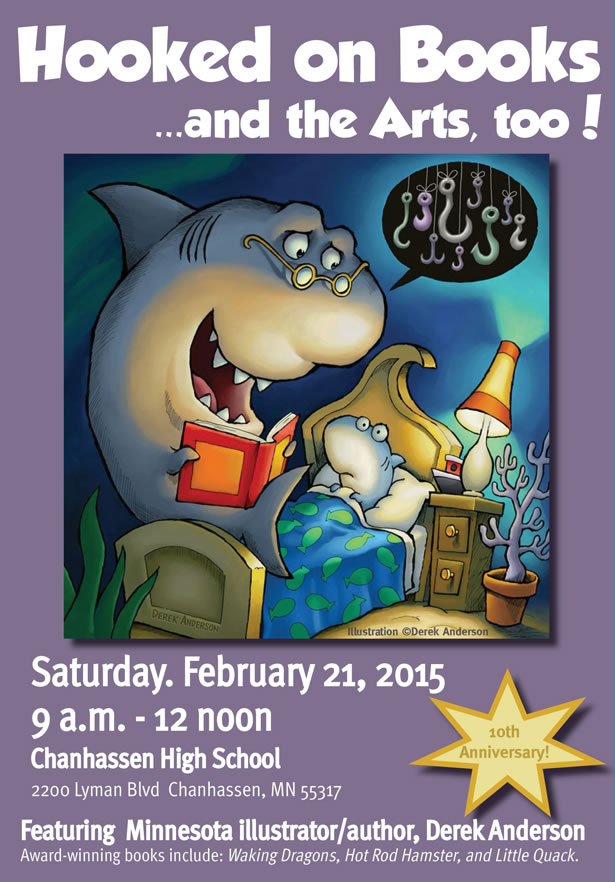 I'll be the featured
Author/Illustrator
at Hooked on Books!
~
Saturday, February 21st
9 am - 12 noon
Chanhassen High School • Chanhassen, MN
I'm proud to announce I'll be the featured author/illustrator at the tenth annual Hooked on Books held in Chanhassen, Minnesota on Saturday, February 21st. The Chanhassen Villager published two articles about the event...
The first article is about the details and history of Hooked on Books. You can read it HERE.
The second is a fun interview. You can read it HERE.
Books will be available for purchase and signing. I'll be doing a short presentation at 10:25am. This event is free and open to the public. Stop by and say hello!

Saturday, January 17th, 2015
---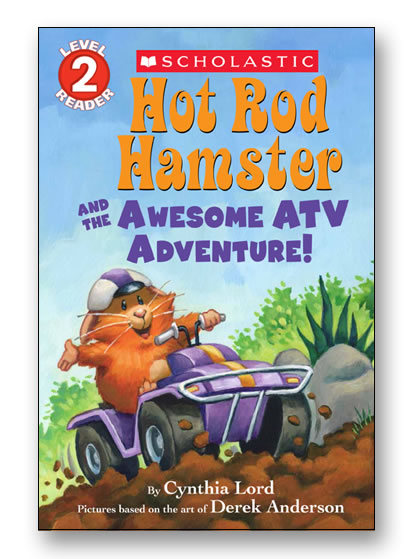 NEW Books
and a LOT of FUN
Coming in 2015!

2015 is going to be a fun year! For starters there's a new Hot Rod Hamster Reader that just came out on January 6th. Hot Rod Hamster and the Awesome ATV Adventure! is full of steep muddy hills, speed and a daring rescue. Hot Rod Hamster's best friend, Dog, really steps up in this one. And the mice are still messing around. There will be another fun Hot Rod Hamster reader published a little later this year.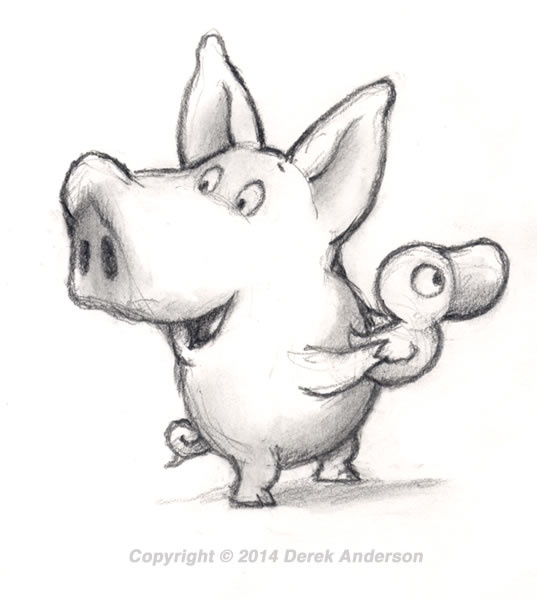 I have an exciting new picture book coming this year! It's an absolute romp. It's called Ten Pigs: An Epic Bath Adventure and will be published by Scholastic in April. I'll be writing much more about that and showing some behind-the-scenes sketches and pics in the coming weeks and months. I can't wait for you to see it!
You also might notice a change to the banner at the top of this blog. I'm always working on new paintings. Some are for books or explorations of characters I'm trying to get to know a little better. And some are exploring deeper ideas about life. The picture I chose for the banner is from 2013. I gave it a title that I think is fitting...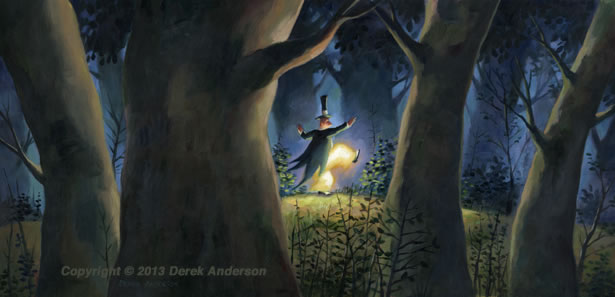 The rare and mysterious dance of the sunny pants
The idea for this painting came long before I actually painted it. I wasn't sure how to approach it until I finally began. Once I got to work it came together very quickly. It's one of those pieces that you feel very much like you're witnessing something that you're not so sure you should even be looking at.
Much more is coming soon. 2015 is going to be fun. Stay tuned!

Friday, January 9th, 2015
---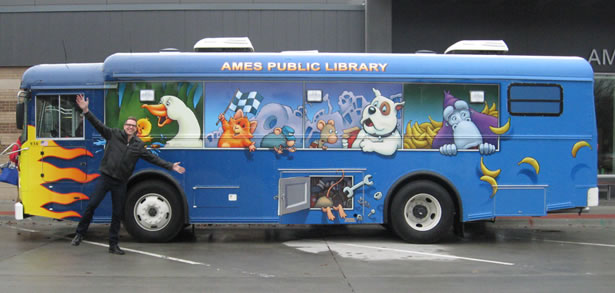 The BOOKMOBILE made
Publishers Weekly

Many thanks to the folks at Publishers Weekly for including Ames Public Library's NEW Bookmobile in their roundup of publishing news!
You can read their write up HERE.

Monday, December 22nd, 2014
---
Introducing Ames Public Library's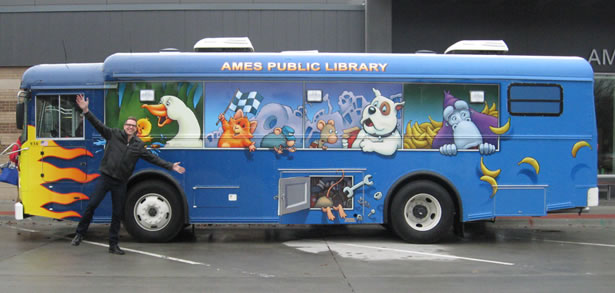 We had a terrific crowd show up in Ames on Saturday to help us unveil and launch Ames Public Library's new bookmobile. This massive automobile has been years in the planning and is the fourth bookmobile in 50 years. It's one giant vehicle! It stands eleven feet tall and is more than thirty feet long.
I created the artwork for it over a period of five months. I'll post more about the process and how I created the artwork soon. But for now you can take a look at some pics from our fun unveiling event...
I designed the artwork for this bookmobile so it would feel like a giant energetic story bus with characters from my books riding in each of the windows. The inside of each window is filled with the world from that particular book...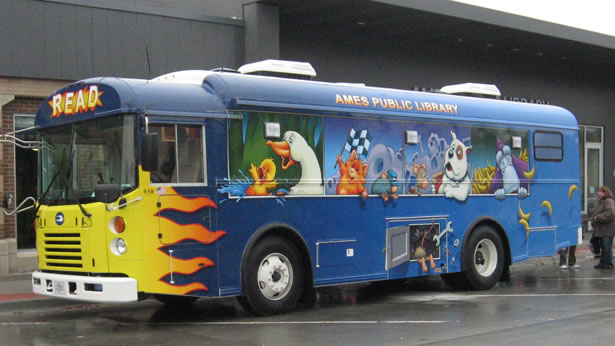 My wife, Cheryl, and I posing in front of Little Quack and Hot Rod Hamster's windows.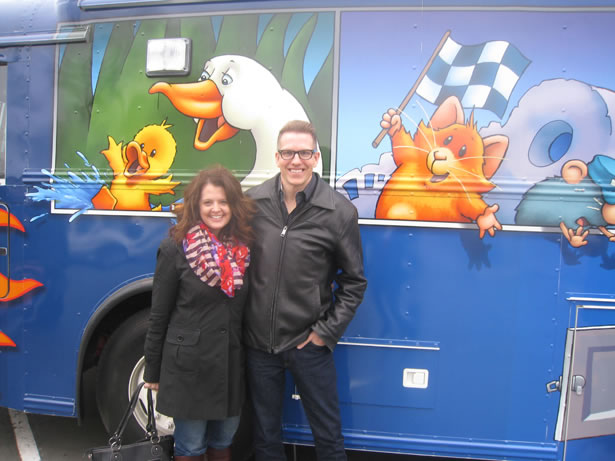 This is the best photo we have of the right side. It was taken in Ohio before the bookmobile was delivered to the library in Ames.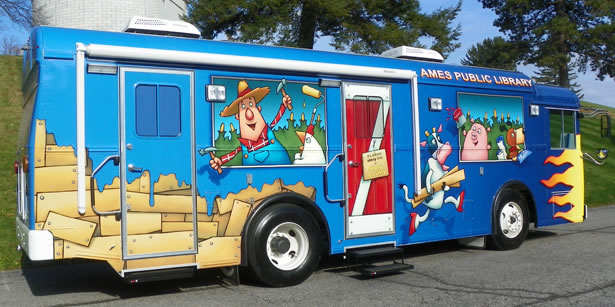 The characters on this side of the bookmobile are from my book Story County: Here We Come! The characters are building the bookmobile out of wood. They are holding hammers, wood, paintbrushes, paint and blue prints. On the barn door hangs a sign that says 'It's always story time in Story County.' Ames is in Story County. That's right, I grew up in the real Story County!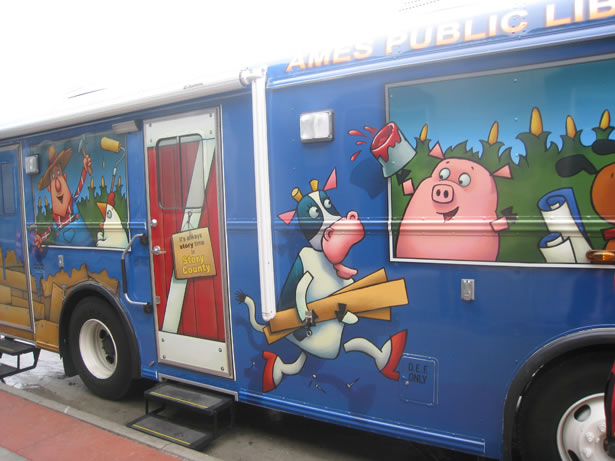 The characters on this bookmobile are all larger than life!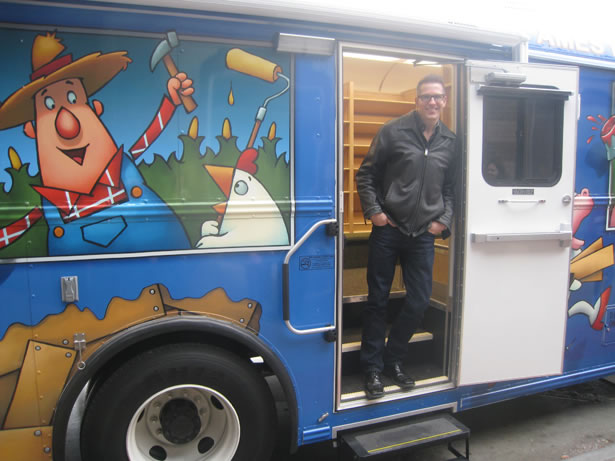 Smyles is the library's mascot, so I gave him a place bursting out of the back of the bookmobile.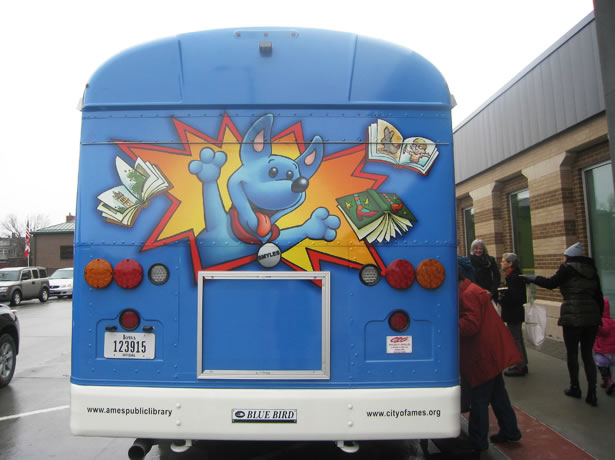 Everybody, get out of the way! Don't worry, I didn't drive this state-of-the-art bookmobile. But I did get behind the wheel for a few snapshots.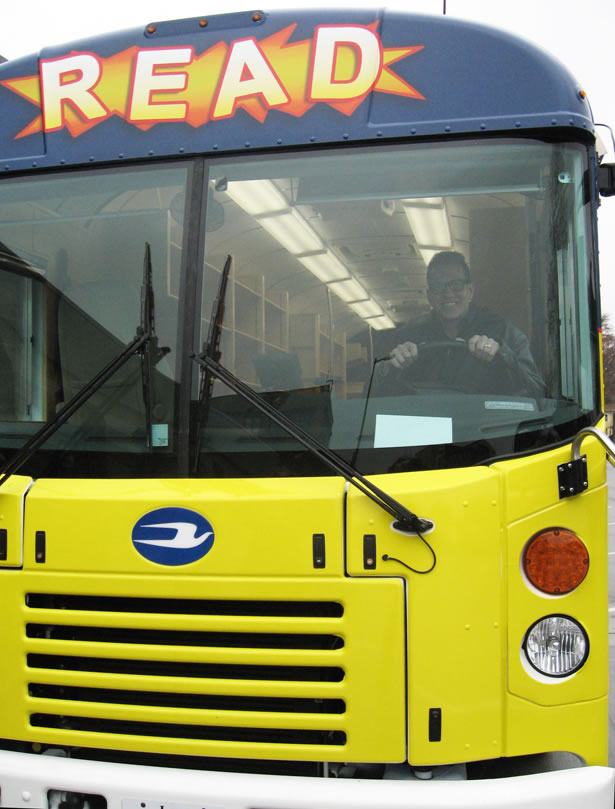 I don't know of another bookmobile in the world that's decked out with racing flames. But Ames Public Library's bookmobile has them and they're sizzling!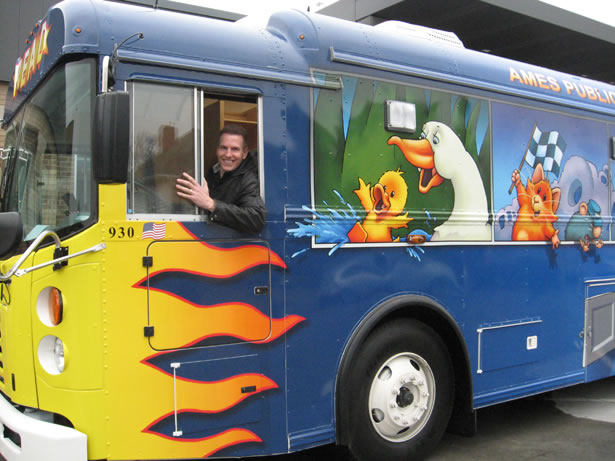 I spoke to a full house about the process of creating the artwork for the bookmobile and some of the hidden meanings.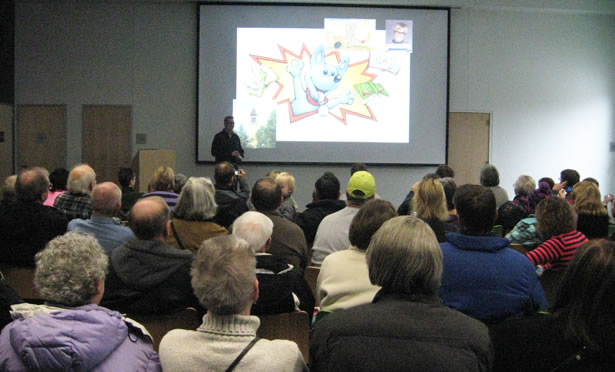 I always enjoy seeing old friends and meeting new ones as well. This is the Franco family. Mrs. Franco is a teacher and I was excited to hear they had the same last name as Fearless Franco from the book Hot Rod Hamster: Monster Truck Mania!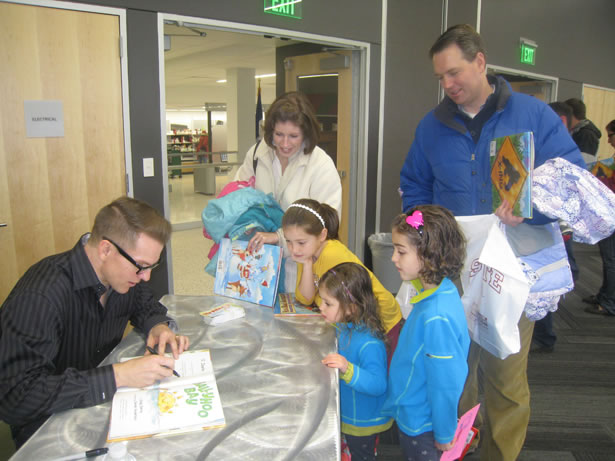 Talking with some young Hot Rod Hamster fans.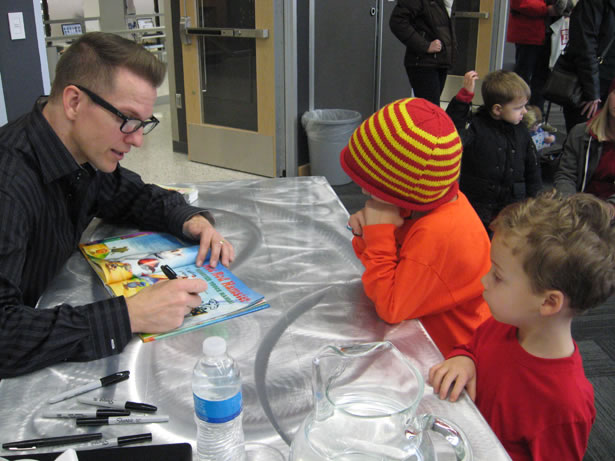 Everybody took a little time after the presentation to study the details of the new bookmobile...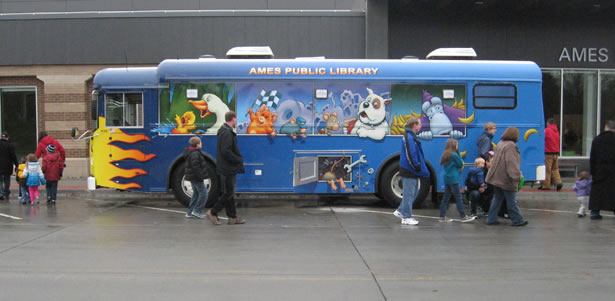 A father and his kids taking a selfie with Gladys!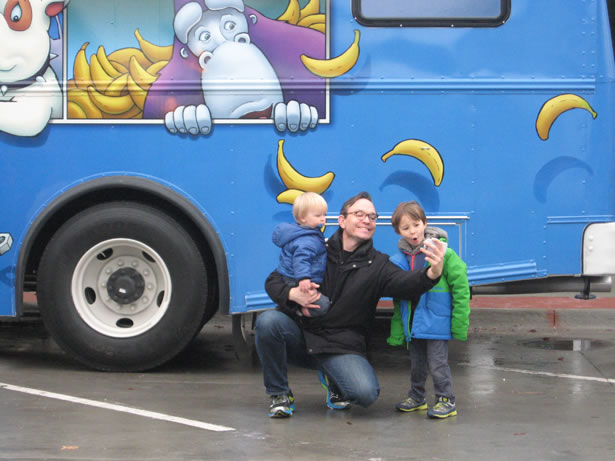 Thanks to everyone who came out, I had so much fun seeing you. And special thanks to Lynne Carey, Tracy Briseno, Jerri Heid and the staff at the Ames Public Library for planning and putting together such a fun event. You can read an article about the event on Ames Tribune's website HERE.