Monday, June 20th, 2016
---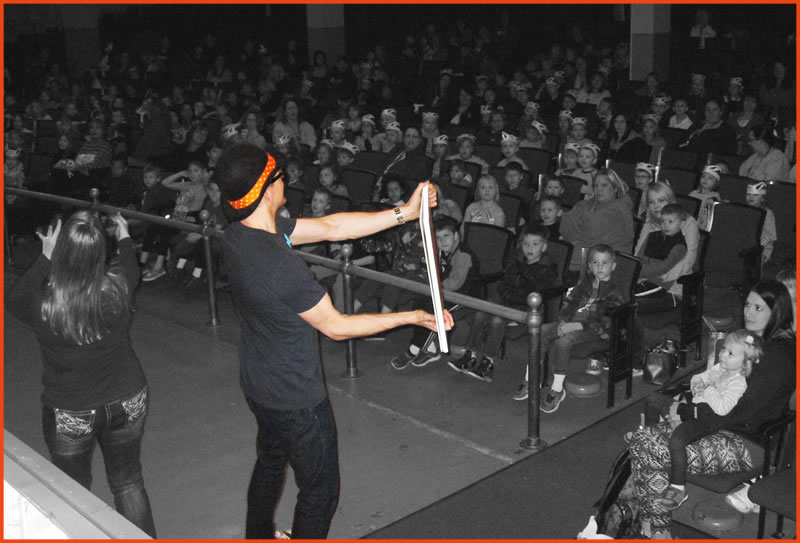 Derek presenting to an audience of more than 300 in Virginia, Minnesota in April.
(The woman to the left is an American Sign Language interpreter)
Upcoming Ten Pigs Trunk Shows!
From Austin to Red Wing and Winona, Minnesota
From Owatonna to Spring Valley and Rochester...
I'm coming your way!

We're nearly half way through the Ten Pigs Trunk Shows! We've had such amazing audiences of young readers and their grownups and I have tons of fun pictures to post. But first- there are more shows coming up over the next two weeks in southern Minnesota. Find a library near you, stop by and say hello!
Tuesday, June 21st
10:30am- Austin Public Library
2:00pm- Albert Lea Public Library
Wednesday, June 22nd
10:30am- Red Wing Public Library
2:00pm- Lake City Public Library
Thursday, June 23rd
10:00am- Winona Public Library
3:00pm- Hokah City Hall
---
Tuesday, June 28th
10:00am- Owatonna Public Library
2:00pm- Faribault Public Library
Wednesday, June 29th
10:00am- Dodge Center Public Library
2:00pm- Spring Valley Public Library
Thursday, June 30th
10:00am- Rochester Public Library
1:00pm- Rochester Public Library
To find addresses and more information for each library, please visit the
Once Upon a Reader calendar page and click on the library you're interested in HERE.
All shows are free and open to the public.

Friday, June 17th, 2016
---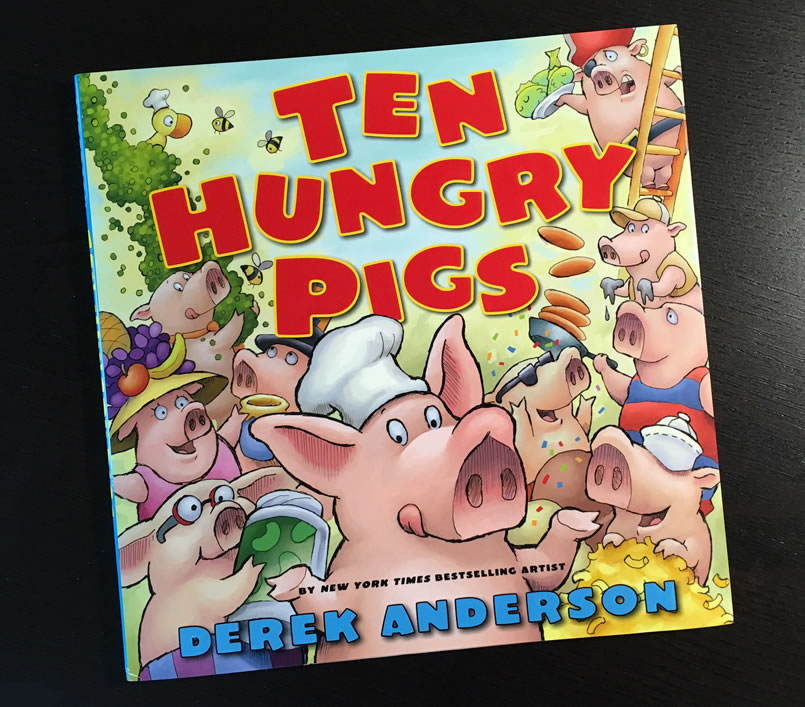 Creating the cover for the book
TEN HUNGRY PIGS

Book covers aren't easy to make. Sure, they look easy. When we see them in bookstores or online, it's as if they've always existed. But so much thought goes into choosing and creating that perfect image. That single image on the cover tells a reader 'This is what this book is all about, this is what you can expect.' It may tease you, surprise you, or even shock you, but it should always invite you. The cover is an invitation to open the book and experience the world inside.
When I set out to create the cover of Ten Hungry Pigs, I had to take into consideration that it was a companion book to Ten Pigs: An Epic Bath Adventure, so the covers needed to have a similar flavor and feel, though clearly be different.
In the first book, my editor, Ken, felt very strongly that all the pigs should appear on the cover of the book. Because each pig brings a prop of some kind into the bathtub, I wanted the props to appear on the cover as well. The background was certainly packed, but I liked the energy and fun it brought to the cover. This is what we ended up publishing...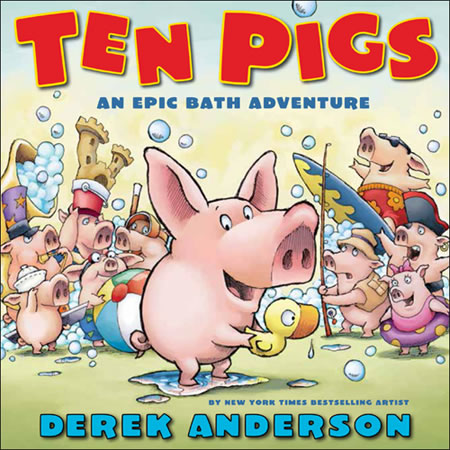 I didn't want to do the same thing with the cover for Ten Hungry Pigs. In this book, our Pig Hero and his Ducky friend are making a peanut butter and jelly snack and the other pigs come along, adding their own favorite foods (which I assure you- do not go with peanut butter and jelly). So the rough I did was very simple- I kept our Pig and Ducky characters center stage and decided the other pigs could crowd onto the back cover with all their favorite foods.
Every rough sketch I make for a book begins in my sketchbook. They're not very detailed or perfect, they're small, quick drawings where I'm experimenting and trying to make sense of an image. Here's the first rough I sent to Scholastic for the front and back covers of Ten Hungry Pigs...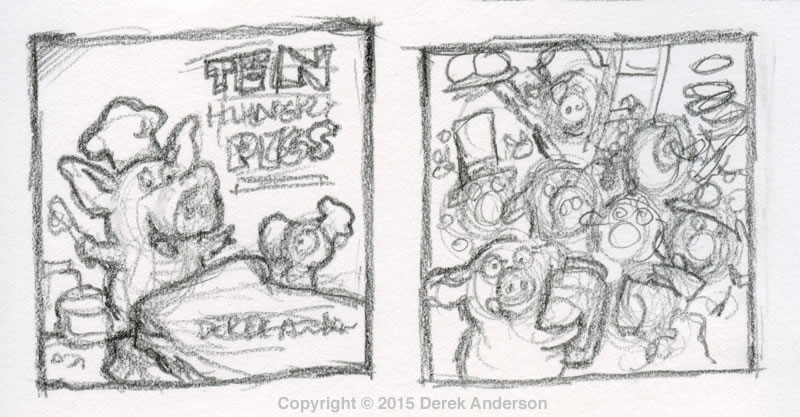 I usually bounce around ideas with both my editor and art director at this point. They weren't crazy about the sketch on the left, it just didn't feel like it showed enough of the energy and chaos that ensues in the story. But they wanted to see the sketch on the right a little more developed. So I created this tighter sketch...
Both Ken and David loved the energy of this sketch and wanted to use something like this on the front cover. This wasn't an easy challenge. There's no focal point in this sketch. There isn't a single part that draws your eye in and says, 'Look at me!' I liked the idea of not necessarily having a focal point on the back cover, so your eye just keeps going around and around at these crazy pigs and their foods. But it's too confusing to do that on the front cover. I have to show the reader what I want them to look at. It took some work, but this is what I came up with.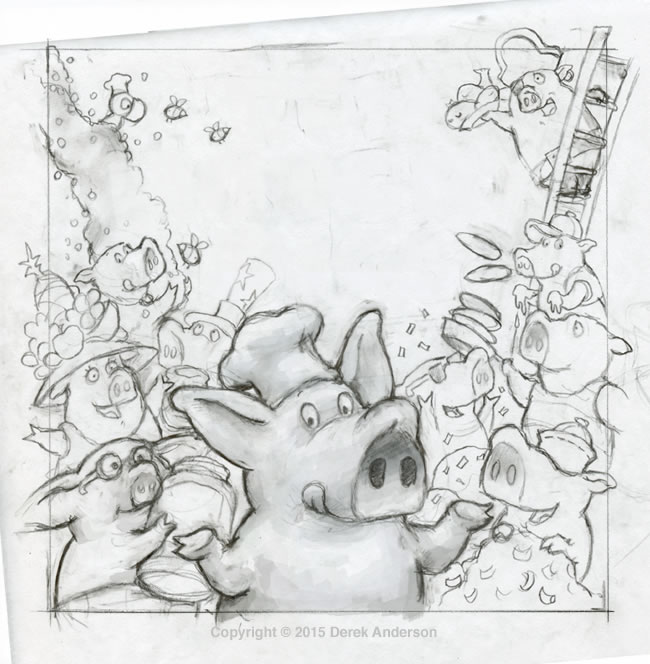 I was able to include all the pigs on the cover with their foods by creating a "V" shaped composition. I placed our main character at the front and center and the other pigs behind him, stacked on either side and receding into the background. It contains all the energy the last sketch had, but the V acts as an arrow, pulling your eye down and forward where our Pig is inviting you to come in and enjoy the book. I had to be sure and leave enough room for the title and byline.
When creating final artwork for a cover, we always have to include extra "bleed" around the edges. Bleed means I'm creating extra parts of the picture that won't show. They go off the edges of the page to safeguard against white paper showing up around the edges of the book. You can see my crop marks on the left image below- those are to show the art director where the edges of the cover will fall. And below right you can see the finished cover after David Saylor has done his magic with the type treatments and layout.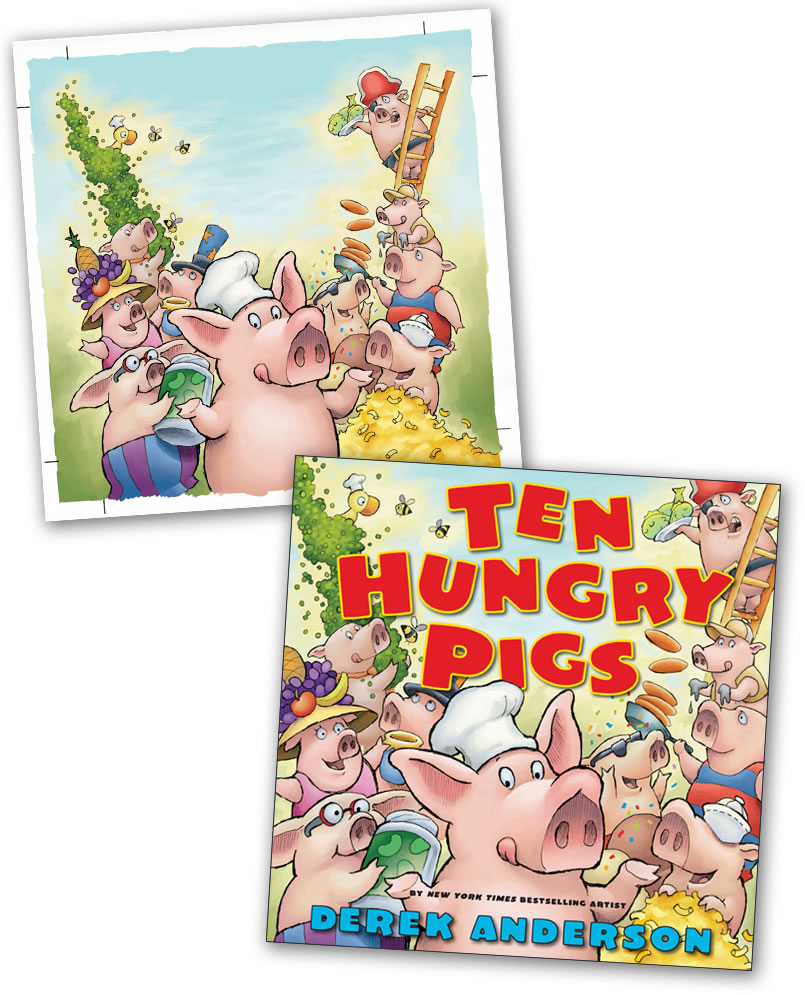 Not only does this cover capture the energy and chaos that happens in the book, it's also a nice compliment to the cover of Ten Pigs: An Epic Bath Adventure.
A lot of work goes into making a book. Every detail has to be considered- from the front cover, story and interior illustrations to the endpapers, jacket flaps and back cover so my readers will have a fun experience every time they read one of my books. And I wouldn't be able to do any of this without my amazing team at Scholastic.
Happy reading!