Tuesday, July 28th, 2015
---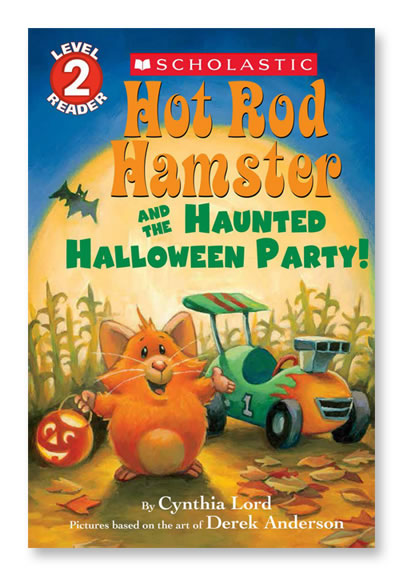 There's a NEW
Hot Rod Hamster Book Out Today!
And Other News...

Our fast, furry Hamster hero is back in another new adventure! Hot Rod Hamster and the Haunted Halloween Party! written by the incomparable Cynthia Lord is in bookstores today! I painted the cover and, as with the other Hot Rod Hamster early readers, we brought in Greg Paprocki to create the interior artwork. This early reader has all your favorite Hot Rod Hamster characters returning with loads of spooky fun! Hot Rod Hamster and the Haunted Halloween Party! is the sixth book in Hot Rod Hamster's speedy series.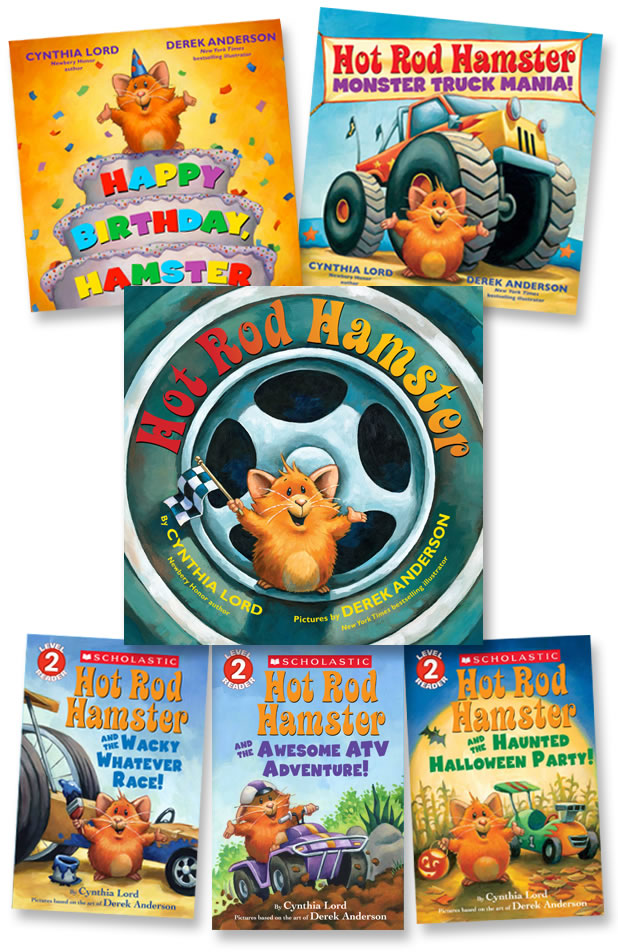 In other news, Publishers Weekly ran our pictures last week from the Ten Pigs reading at the St. Paul Saints game along with a terrific article about the Saints and their support of literacy. Many thanks to Claire Kirch for the great article! You can see the pictures and read the article HERE.

Monday, July 20th, 2015
---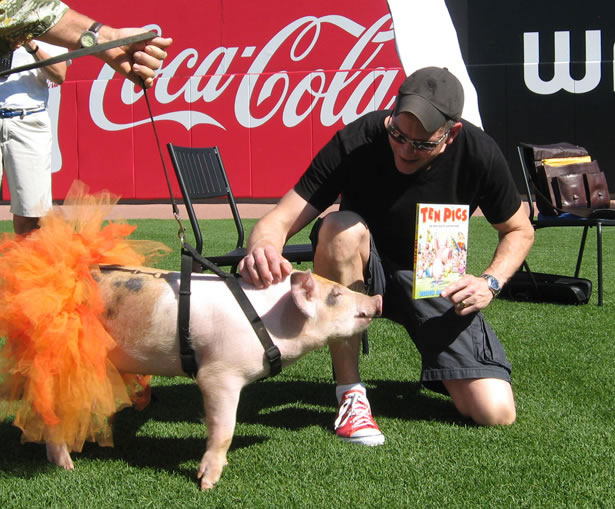 Pigs, Books & Baseball
It doesn't get any better...

A few times each summer, the Saint Paul Saints invite an author/illustrator to come and speak to young baseball fans about the importance of reading and read a special book to them. I was asked to be a guest of the Saints this summer and did a reading before Sunday's game.
It couldn't have been a more perfect day for a baseball game and a book! They invited the kids to come down on the field and then brough the lovely Pigasso by to say hello. Since my book is about PIGS and the Saint Paul Saints' mascot is a pig, it was a perfect fit.
I began by speaking to the kids about the importance of reading. You can see the cover of Ten Pigs: An Epic Bath Adventure on the scoreboard in the background.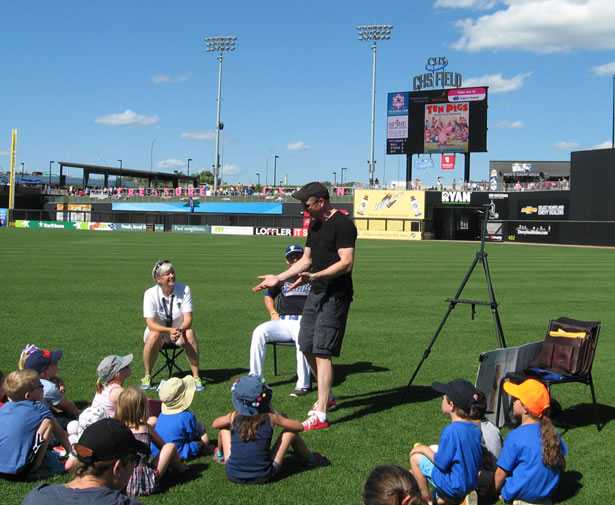 Those are some seriously larger-than-life piggies!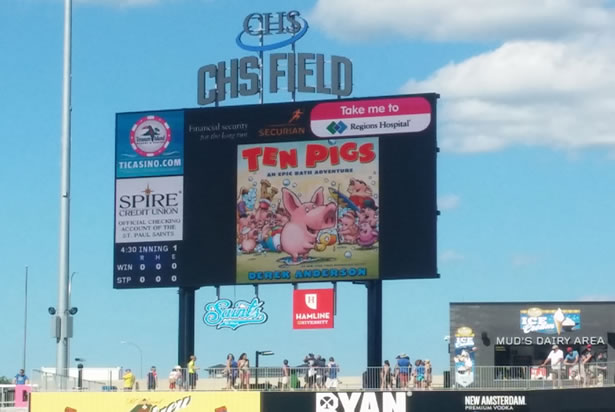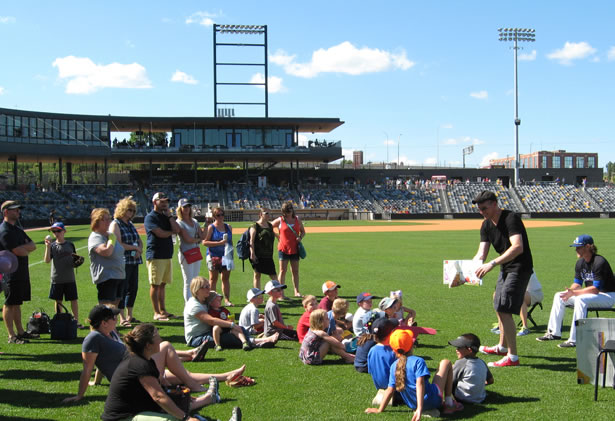 While I was doing a drawing demonstration, a gust of wind blew up and knocked down the easel and drawing pad...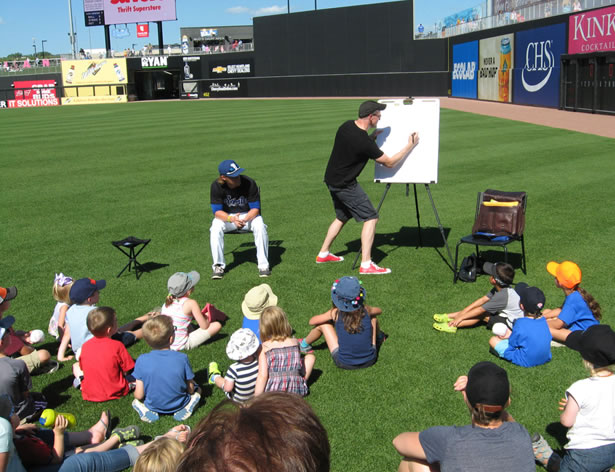 Luckily, outfielder Mitch Elliott was on hand to speak to the kids about reading as well. He stepped up and held the easel so I could finish the drawing.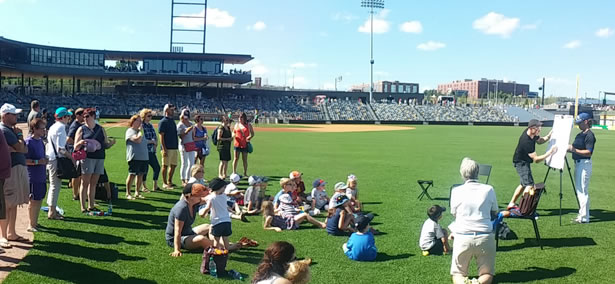 Thanks Mitch!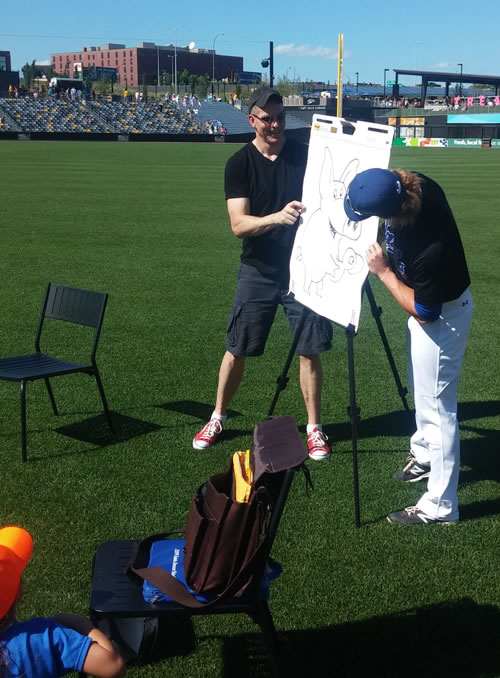 Special thanks to Amy Baum at Mackin Educational Resources for arranging this reading. Thanks to Annie Huidekoper of the Saints for her endless hospitality and enthusiasm for books and reading. And thanks to my buddy Roger Bothwell for snapping pictures of the event.

Tuesday, July 14th, 2015
---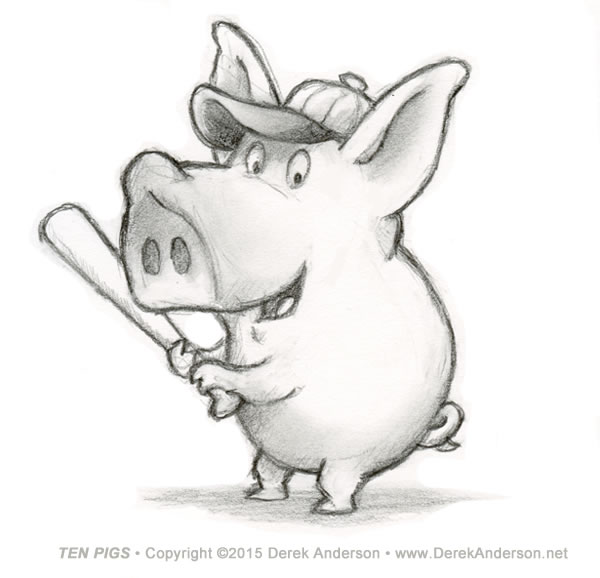 Two More Summer PIGGY Events...
~
Party with TEN PIGS on the Minneapolis Trolley
plus TEN PIGS at the St. Paul Saints game!

Summer is in full swing! There are two more fun piggy events this week. I'll be reading on the Historic Minneapolis Trolley (near Lake Harriet) this Thursday, July 16th. There are two shows- 6pm and 7pm. These events are always fun- they serve milk and cookies on the platform and then we climb aboard for a short ride on the tracks and then park for storytime and a little drawing. This is a ticketed event and both shows are sold out. We'll post pictures after the event.
PLUS- I'll be reading Ten Pigs: An Epic Bath Adventure this Sunday, July 19th at the St. Paul Saints game. The Saints are great supporters of reading and literacy. And they're great supporters of pigs (their mascot is a pig afterall). Before their home games, they invite young readers and their families onto the field to hear a story and speak with both the author and a baseball player. Come down onto the field before the game and hear a reading of Ten Pigs: An Epic Bath Adventure! Though I won't be throwing, catching or hitting the ball, I'll be sure to register my official stats after the game.
In case you can't make it to either event, here's a fun Piggy activity you can share with your kids. Click on the picture below for a downloadable Ten Pigs Activity Sheet and have a little Piggy fun at home after reading the book!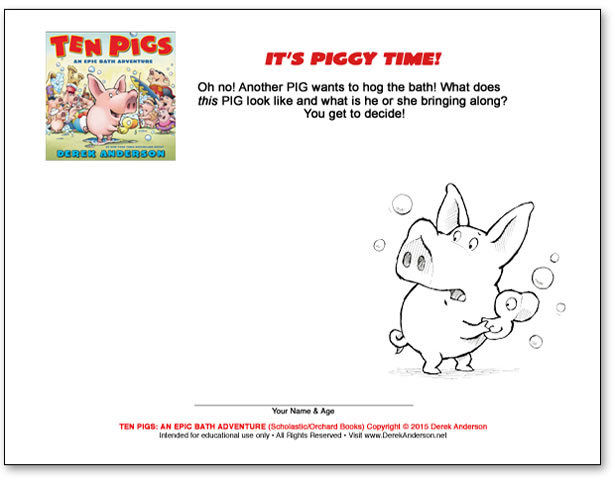 Monday, May 11th, 2015
---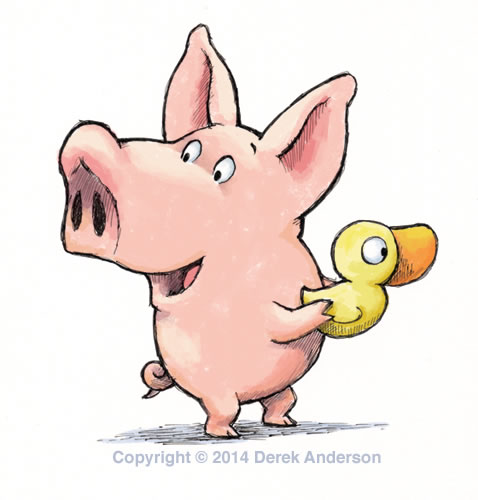 Two EPIC PIGGY Events in Ames, Iowa
this Saturday, May 16th
~
10:30am at ISU Bookstore (in the Memorial Union)
2:00pm at Ames Public Library

There are two more opportunities to get a signed copy of Ten Pigs: An Epic Bath Adventure coming up in Ames, Iowa! This Saturday, May 16th, I'll be presenting my new book Ten Pigs: An Epic Bath Adventure at two different events. I will be speaking all about my new PIGGY friends and how I created them, there will be a drawing demonstration and I'll be reading this crazy new book.
Both events are free and open to the public. Come join the EPIC piggy fun this Saturday...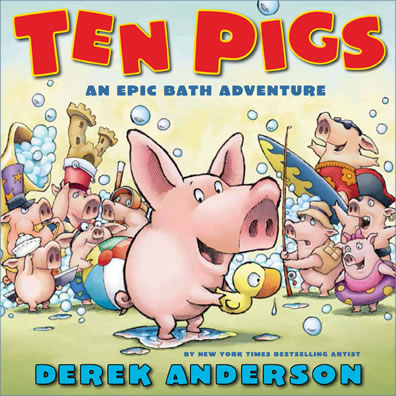 Saturday, May 16th
---
10:30am
Iowa State University Book Store
(in the Memorial Union)
Ames, Iowa
2:00pm
Ames Public Library
515 Douglas Avenue
Ames, Iowa
See you in Ames for some serious PIGGY fun!

Monday, May 4th, 2015
---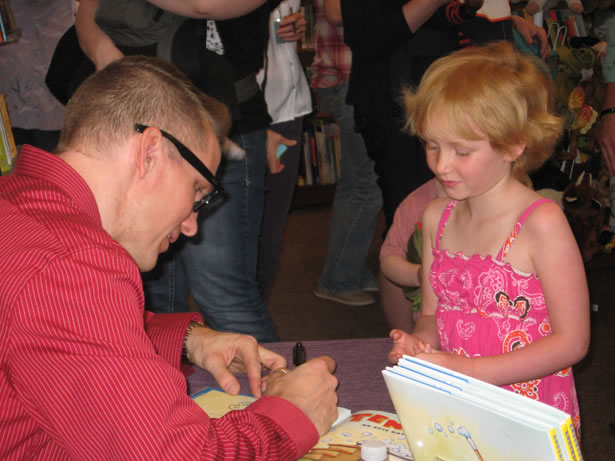 Signing a copy of TEN PIGS for my pal, Audrey
It's PIGGY Time!
Launch Party Pics from
Ten Pigs: An Epic Bath Adventure
at Red Balloon Bookshop...

We had an amazing time at Red Balloon Bookshop on Saturday. They know how to throw one FUN piggy party! Many thanks to all those who came to celebrate. We saw a few old friends and made a whole lot of new ones. I did a short presentation showing the very first drawing I ever made...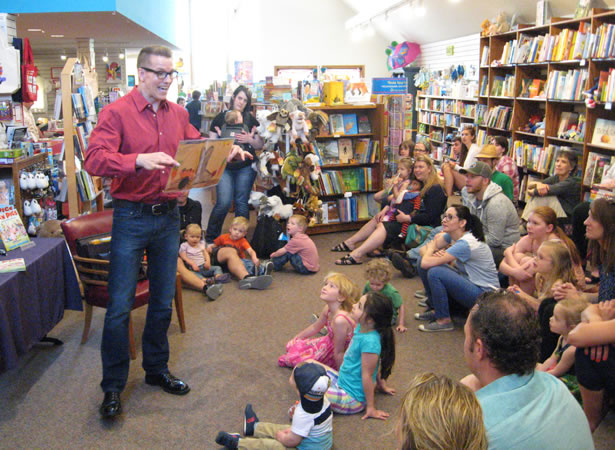 A piggy party is never complete until there's a drawing demonstration!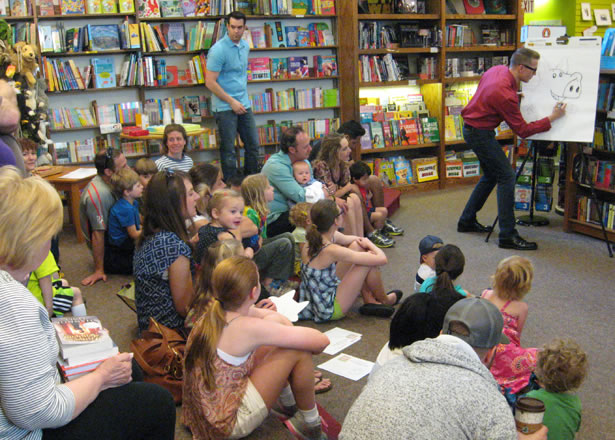 Reading TEN PIGS. Who surfs in a bathtub? Seriously! One of the PIGS does.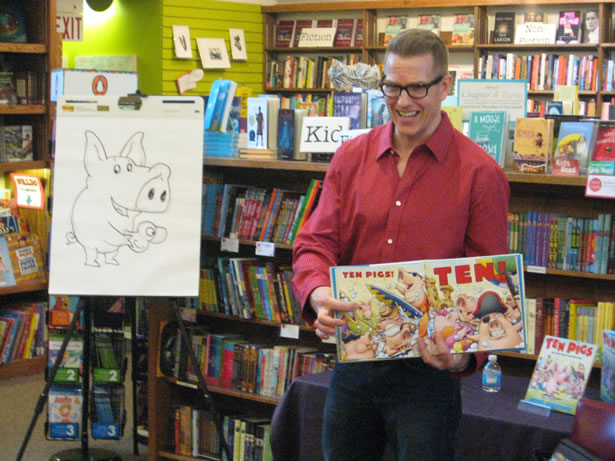 Getting ready to sign...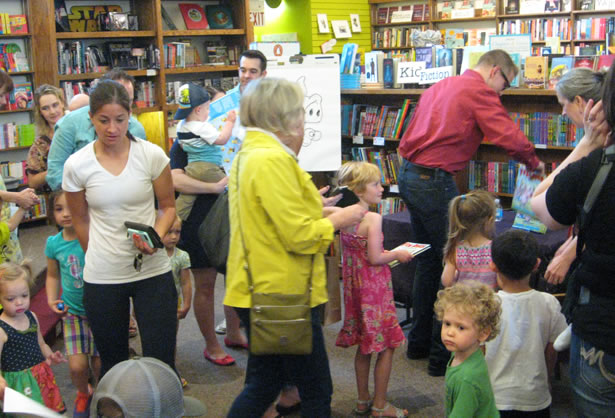 Signing books for Delaney and her little brother, Porter.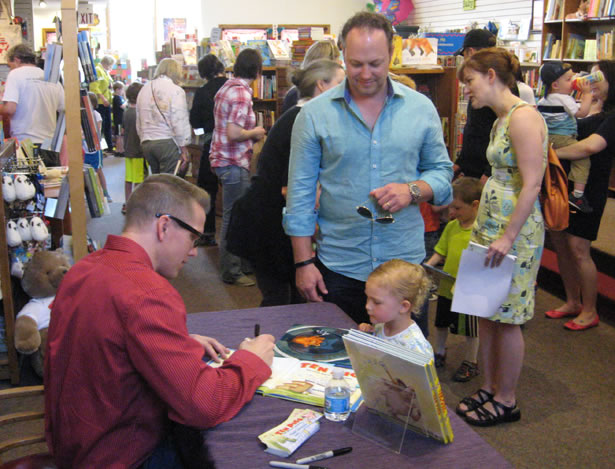 If you're going to a piggy party you have to enjoy a little piggy cake... Yummers!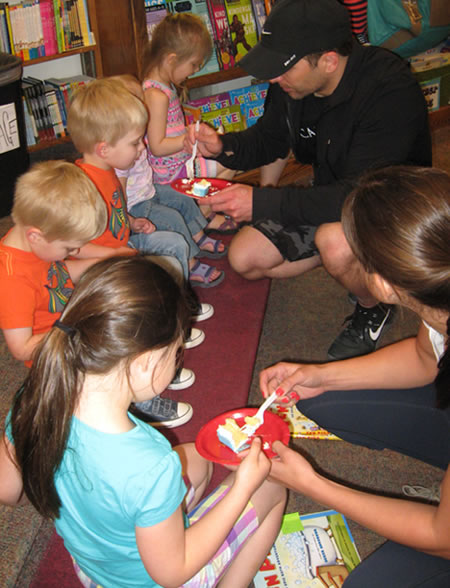 My buddies, Ryan McDowell and Aaron Kornegay, with their copies of Ten Pigs: An Epic Bath Adventure.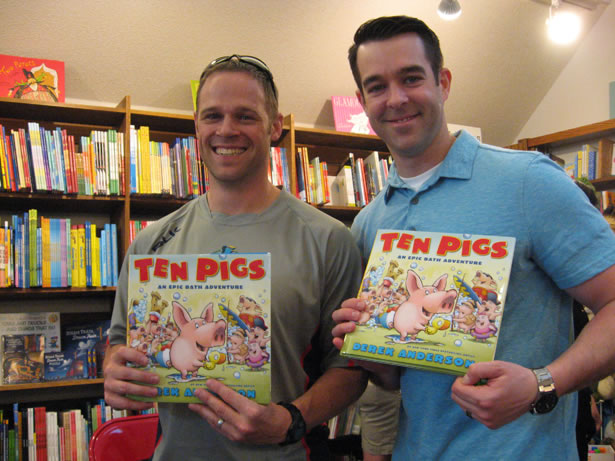 Huge thanks to Holly Weinkauf, Amy Oelkers and all my friends at Red Balloon for throwing such a great piggy party and launching Ten Pigs: An Epic Bath Adventure in style!

Tuesday, April 28th, 2015
---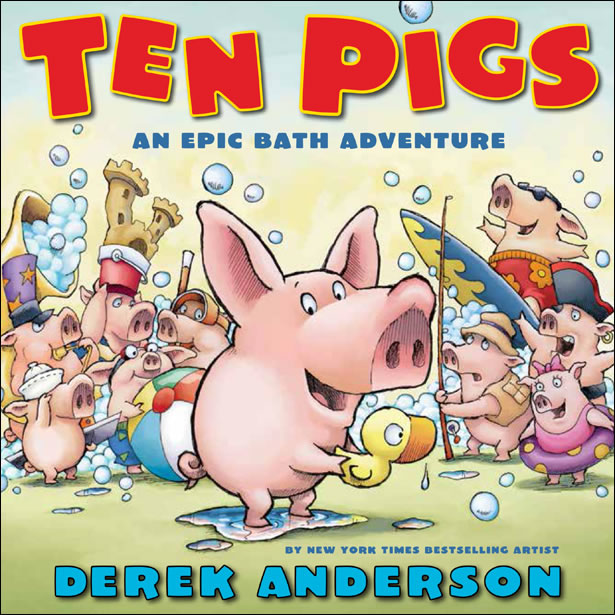 It's HERE!
Ten Pigs: An Epic Bath Adventure
is published today!

Happy publication day! Get your mask and snorkel, your rubber ducky, your boats and shampoo- Ten Pigs: An Epic Bath Adventure comes out today!
School Library Journal says, "...Pithy and brisk, this book is a solid choice for children learning to count and young readers looking for a good laugh."
Kirkus Reviews says "...Anderson's joyous, porcine counting rhyme is bathtime (and storytime) fun. His bright-eyed, cartoon porkers, rendered in "ink, Photoshop and soap suds," are expressive, goofy and engaging."
I think that sums everything up nicely. You can pick up a copy at your local bookstore or online. If you'd like to read the full reviews or find an independent bookstore near you, click HERE.