Wednesday, June 12th, 2019
---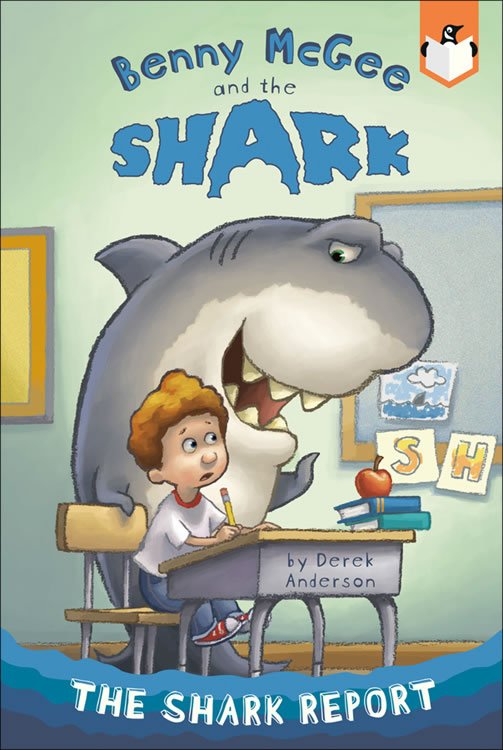 Coming in February 2020!
I was just given the okay by my publisher (Penguin Workshop) to reveal the cover of my first chapter book coming in February 2020.
I was obsessed with sharks when I was a kid growing up in Ames, Iowa (okay, I might still be obsessed). So this book was so much fun to create. I can't wait for you to meet my new friend, Benny McGee (and the Shark), in February!

Wednesday, May 29th, 2019
---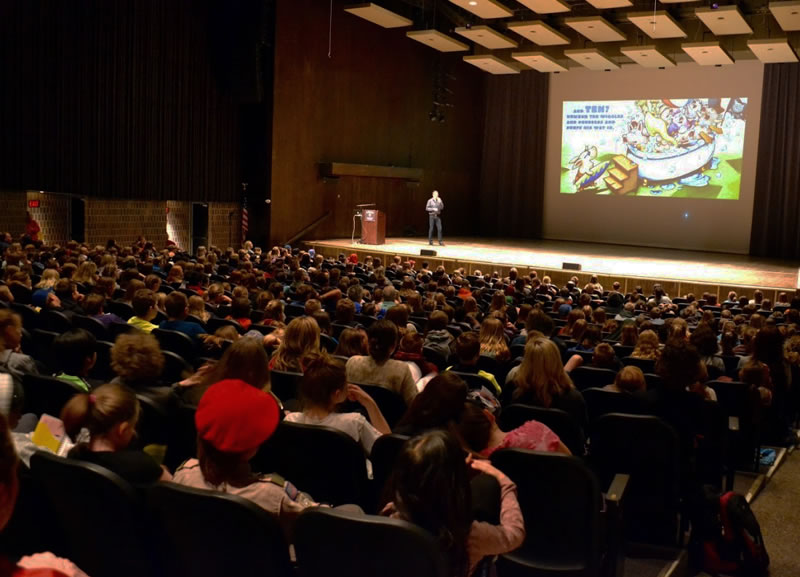 Author/Illustrator Derek Anderson delivering a Keynote about the power of the imagination to more than 500 students
(3rd through 6th grades) at the Young Authors,Young Artists Conference held at the College of St. Benedict in St. Joseph, Minnesota
Spring Keynotes & School Visits!
It has been a fun spring full of speaking, school visits, travel and very busy book deadlines!
On a cold, snowy February night, I kicked off "I Love to Read" month at Lake Harriet Community School's Read-a-thon where I presented to students and their parents. Minnesotans are some of the heartiest people I know. It doesn't matter how cold and snowy it gets, you always have brave souls who will never let winter stop them from having fun!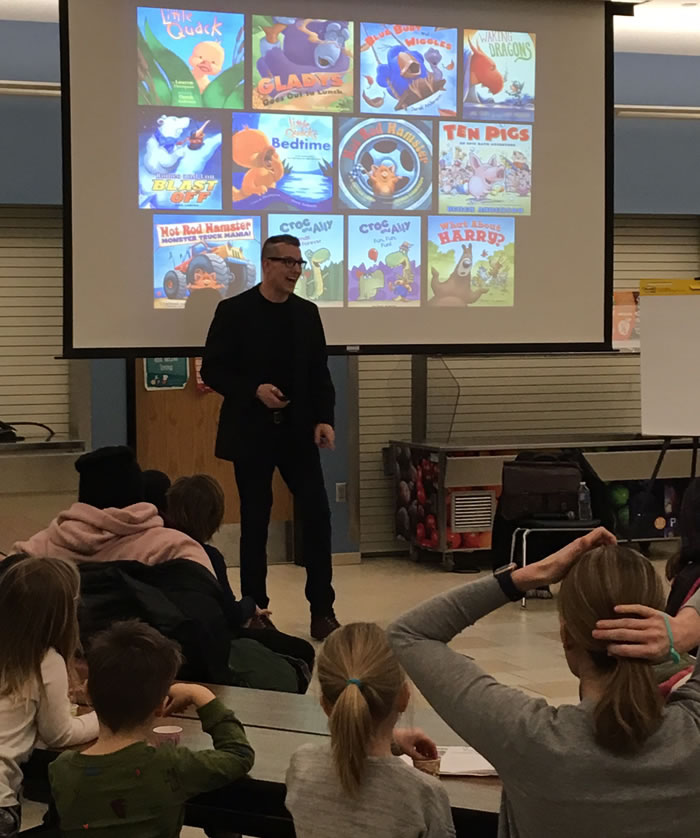 Thanks to Nikki Nethercot-Niermann for the invitation to speak!
That Saturday morning, I did a story time with the Bookhounds group from Family Fun Twin Cities at GoodKids in White Bear Lake. Thanks to Gianna Kordatzky for inviting me and to Megan Walsh at GoodKids for hosting.
The following weekend we had the launch party for my new picture book What About Harry? An excellent audience of kids and their parents showed up.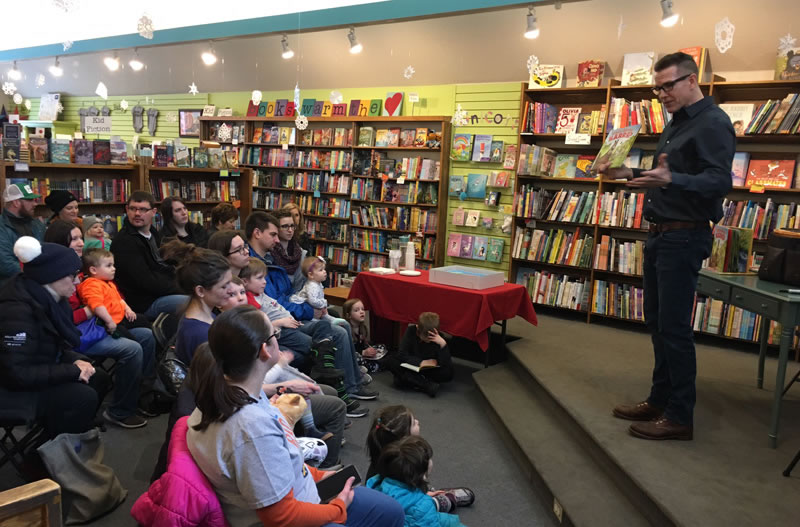 Many thanks to Angela Whited and the gang at Red Balloon Bookshop for hosting yet another release party.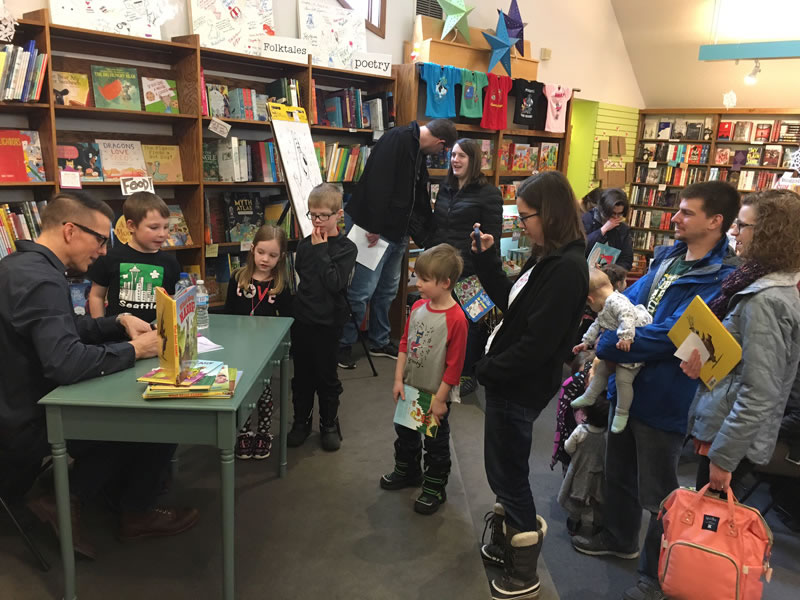 At the end of February, I spent a week at Delano Elementary School in Delano, MN. I gave one big presentation to the entire school (more than 650 students and teachers) and then did an Author/Artist in Residency leading workshops on writing and drawing for the rest of the week. Special thanks to Ashlee Emmerich for contacting me and to Teresa Langton for her excellent hosting.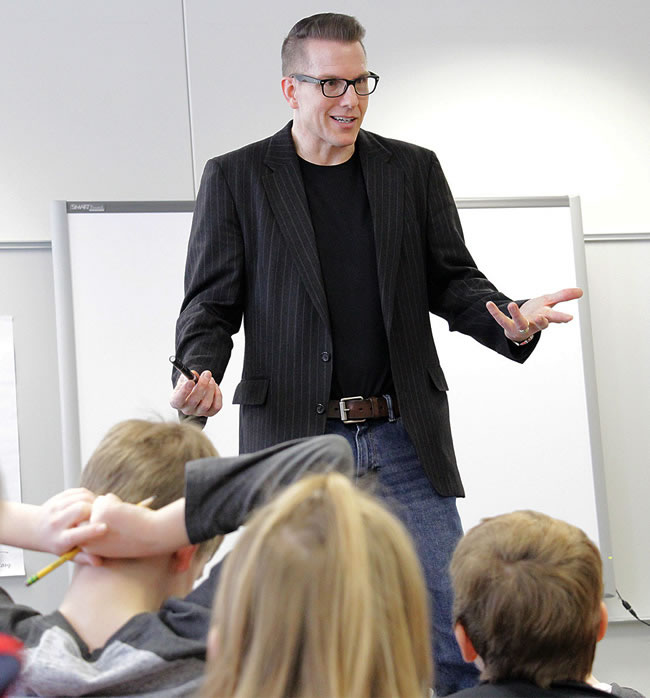 I spent my birthday in March with a gang of very excited elementary school students in Fairview, Pennsylvania. They decorated the windows, made posters and were ready with a warm welcome to celebrate my birthday (this was a big one)!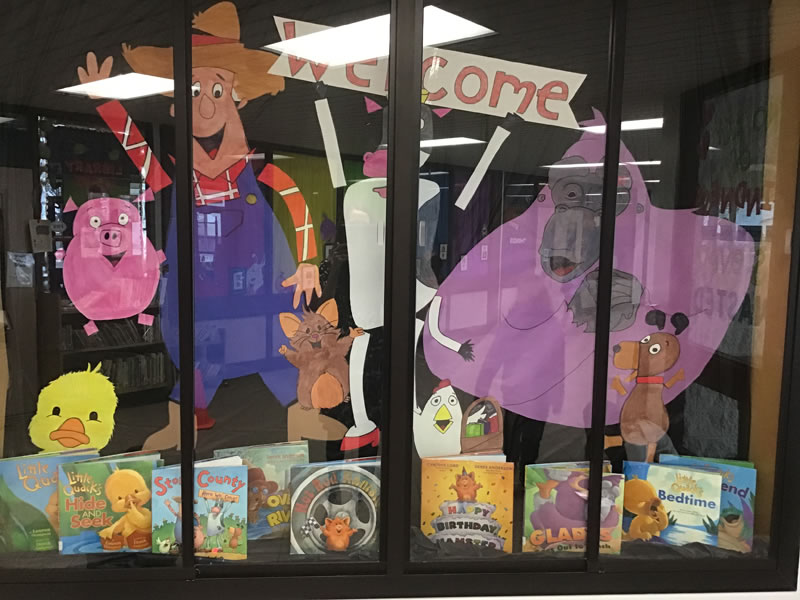 I love talking to students about books and the power of the imagination! And the kids in Fairview were fantastic!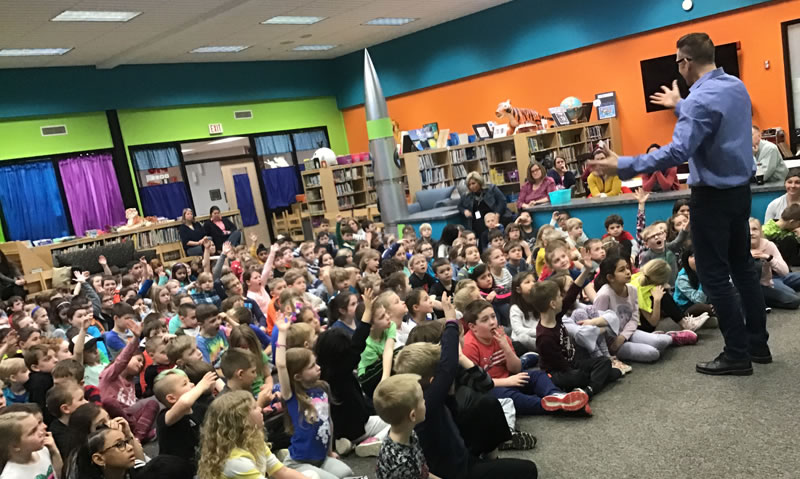 Endless thanks to Angela Gerber (on my left) and Sarah Drabant (right) for all their planning and hosting on this special day. And to their husbands, Jay Gerber (for giving me rides to and from the airport) and Matt Drabant (for driving me to school).
And thanks to these amazing parent volunteers who came in and helped out for the day. They were all so fun to visit with! They brought in birthday breakfast, lunch, birthday cake and they were ready and willing to help with everything throughout the day!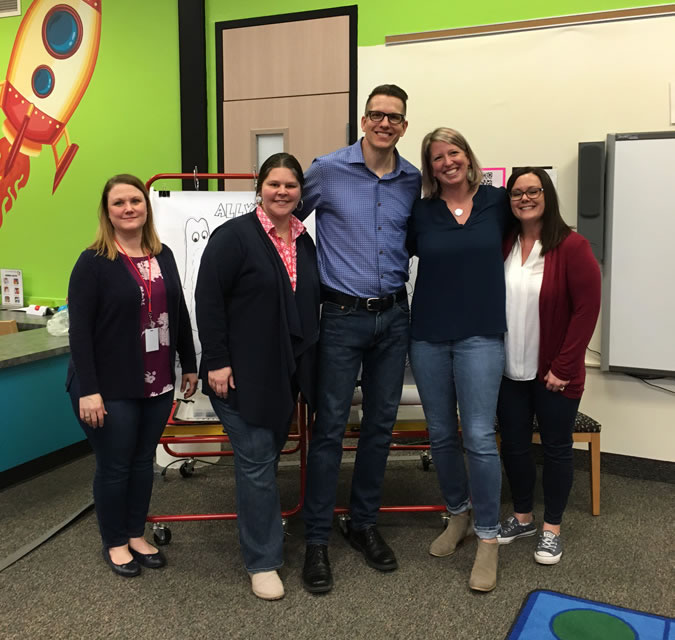 Angela and Sarah gave me a giant package of birthday cards made by the kids to read on my flight home. I had such a big smile on my face the whole way home. Their cards are amazing! A lot of kids drew Croc and Ally.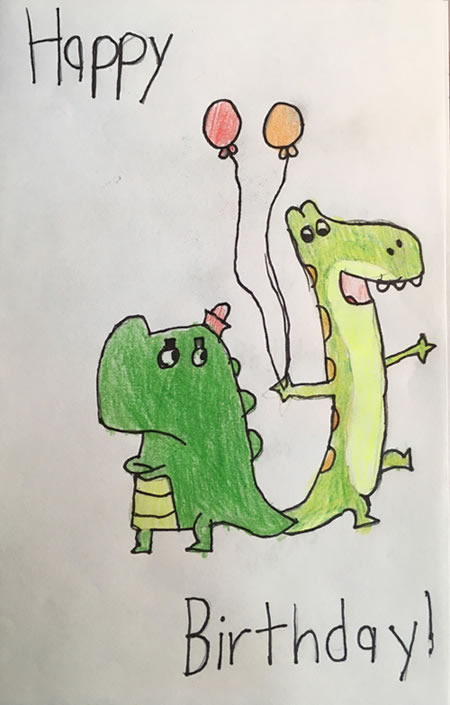 Hot Rod Hamster was included in all the fun!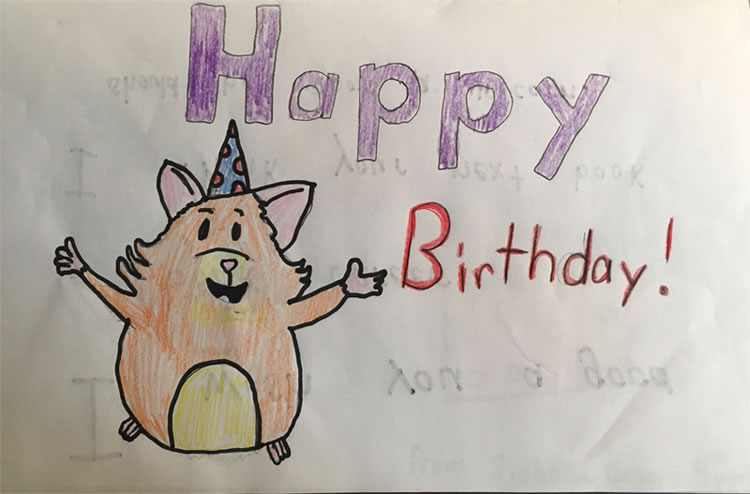 Some kids wrote heartfelt notes. There are no filters with kids, they are free to express themselves and they will always tell you what they really think.
I always love to see how kids draw me. It's so interesting to see the world through their eyes. Anson's drawing looks just like me!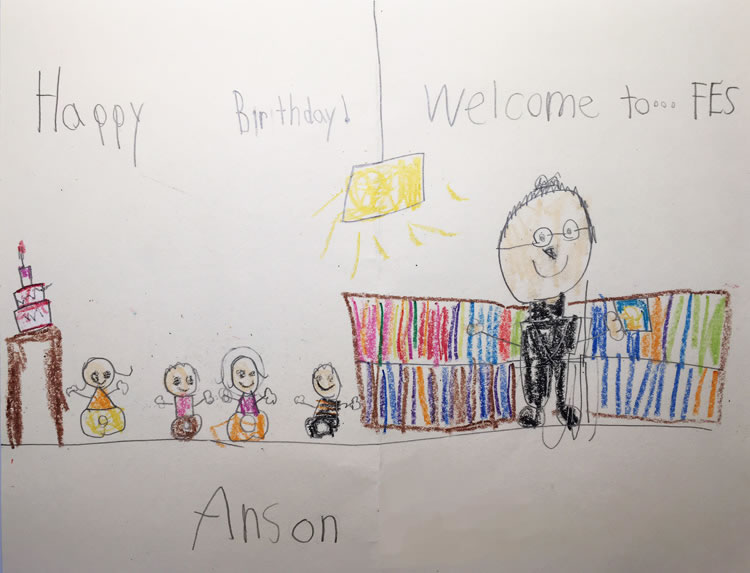 The next week I flew to Omaha, Nebraska, rented a car and drove to Norton, Kansas. Mary Boller and the gang from the Northwest Kansas Library System picked me up early the next morning and we headed off to the Mountain Time Zone to begin our day at West Elementary School where they have never had an author visit before. We then travelled to Quinter and finished that afternoon at the library in Hoxie.
Some of the kids had made posters that were hanging up in West Elementary to advertise the special event.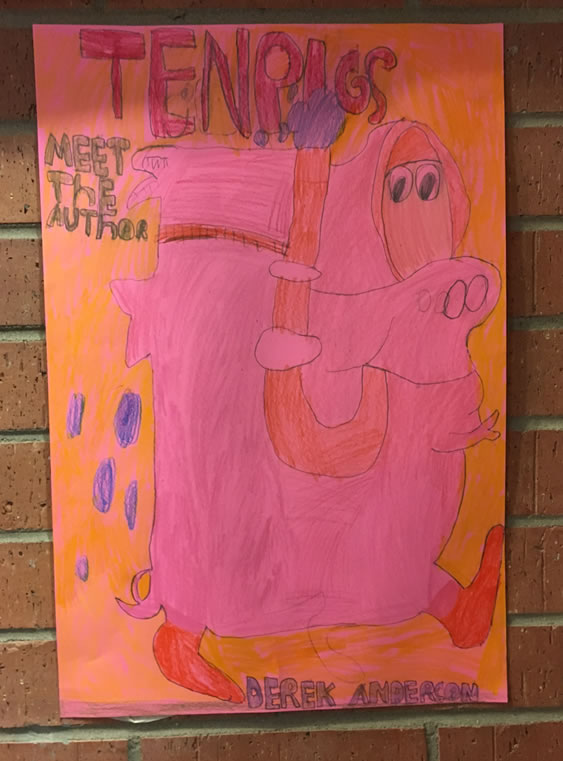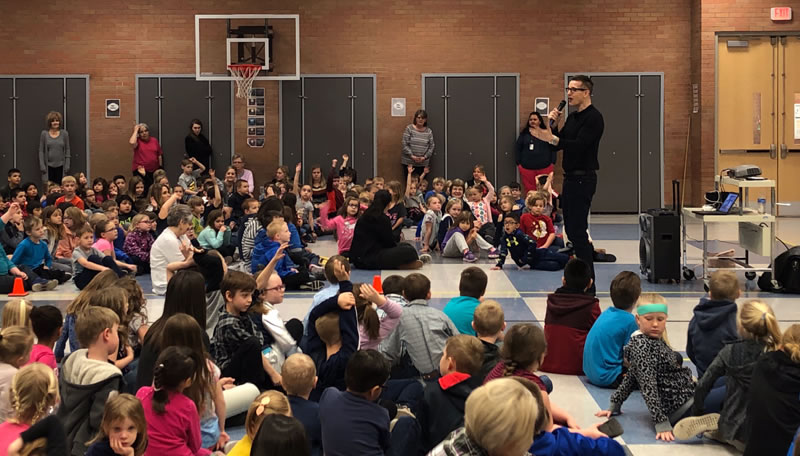 My favorite question from this trip came from a girl in Quinter. She asked, "What day did you become famous?"
Special thanks to Mary Boller, Jennifer Mapes, Heather Frew and Kama Mandl for arranging this visit, escorting me for the day and making all the travel extra fun!
Shortly after I returned home, a giant package of thank you notes arrived in the mail. When kids take the time to write, I always look at every drawing and read every note. Here are just a few...
Maleah wrote this very kind note and enclosed a drawing of Ally.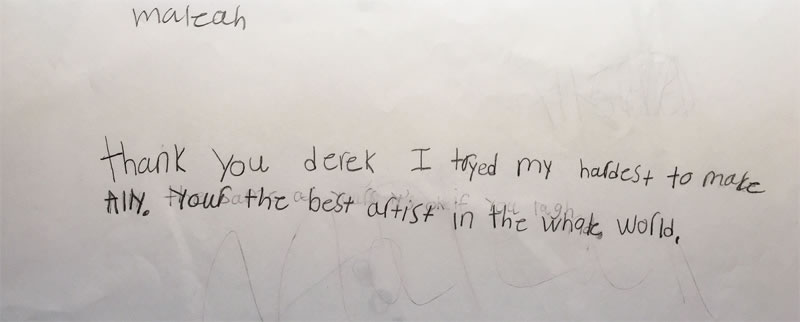 You did great, Maleah!
A lot of kids drew Ally from my Croc and Ally books. When I do drawing demonstrations at schools, I always want kids to come away thinking, "I can do that!" They can and they do!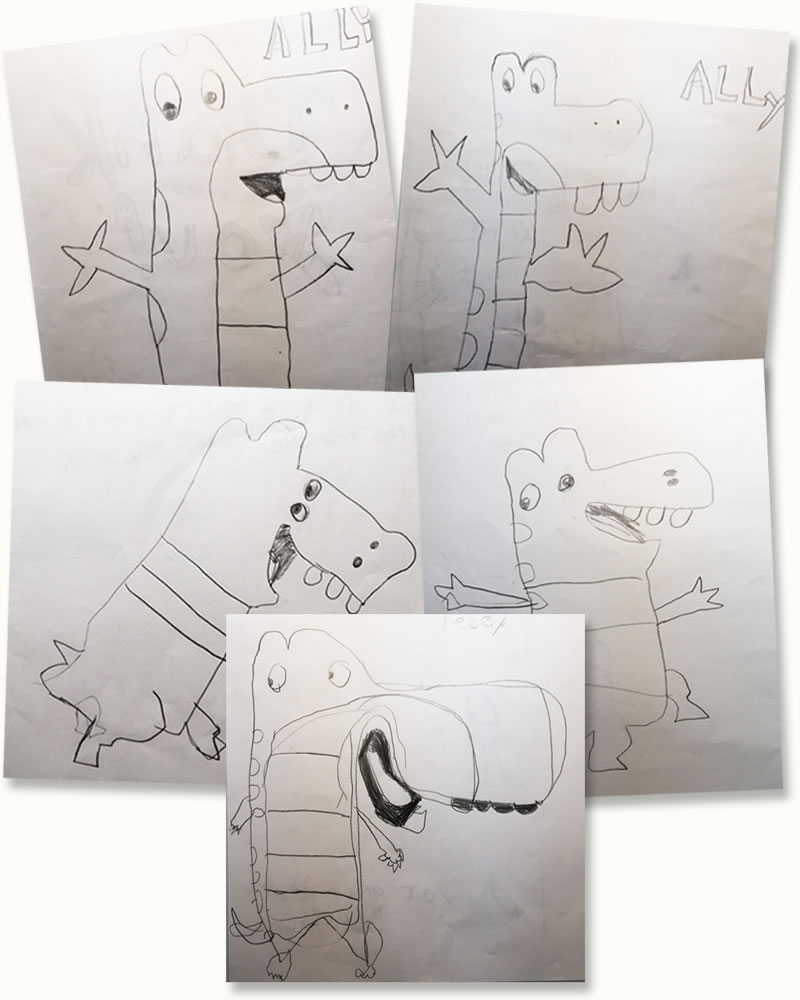 I love how every single drawing of Ally is a little different. Each has SO much character! A lot of kids drew pictures of me. Francisco and I have the same hair! Nice job, Francisco!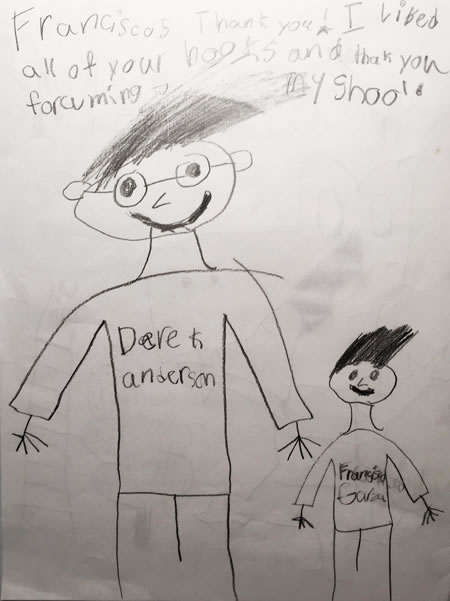 In mid-April, we held events in Ames, Iowa at the Iowa State University Book Store and Ames Public Library to celebrate the publication of my new book What About Harry? I always love going back to my hometown.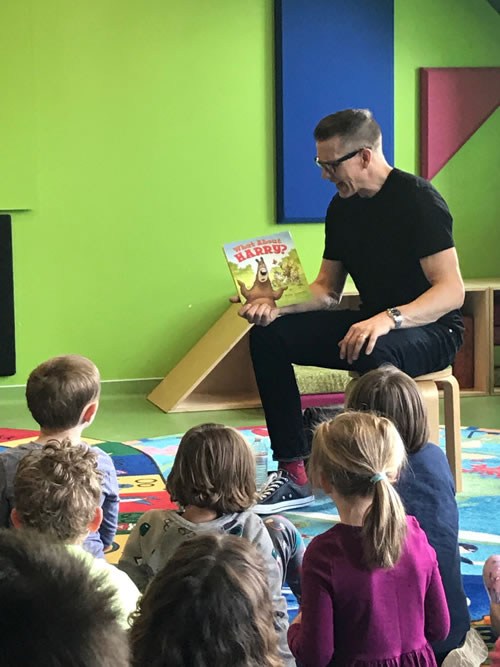 Many thanks to Gayle Mastbergen and Rachel Faircloth at Iowa State University Book Store and Jerri Heid at Ames Public Library for their support and planning!
In May, I traveled to Paris, Kentucky to speak at the elementary school during the day and then at their family night celebration that evening. It was great to return to Kentucky (I visited schools in Bowling Green last fall).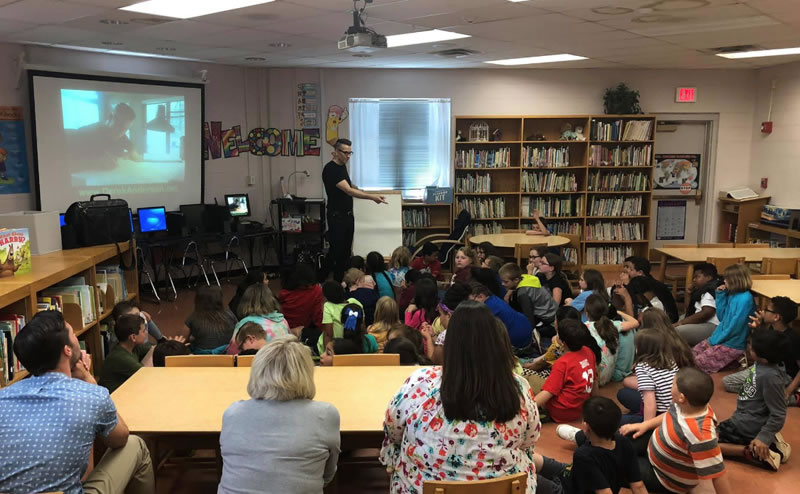 Special thanks to Ashley Norris and Amanda Evans for inviting me to come to Paris!
I returned home to a waiting book deadline. The interior artwork for my new book was due in just two and a half weeks and I wasn't done with my spring events.
A week and a half later I was off to St. Joseph, Minnesota to deliver keynotes for three days and lead workshops at the Young Authors, Young Artists Conference held at the College of St. Benedict. Deb Thomas had this event planned perfectly. Each morning, after opening remarks, I delivered the keynote to 500 3rd-6th grade students, their teachers and chaperones and the conference volunteers and other authors and artists. It was a lot of kids and a LOT of fun!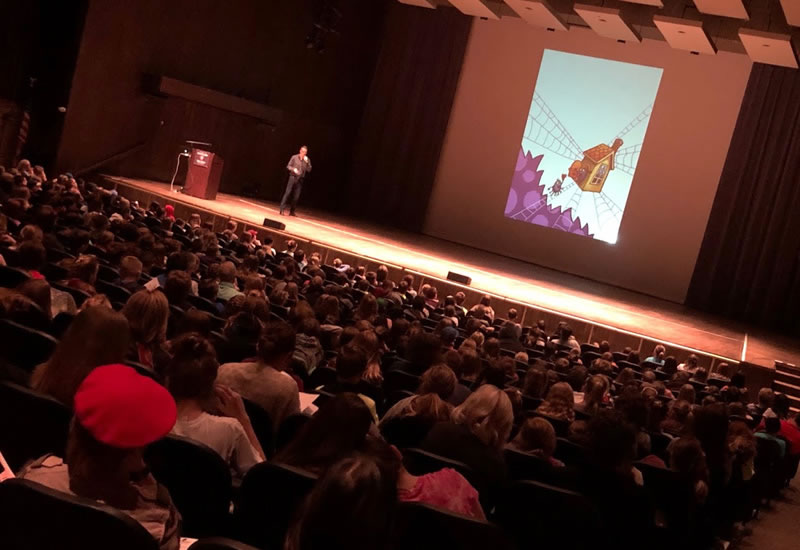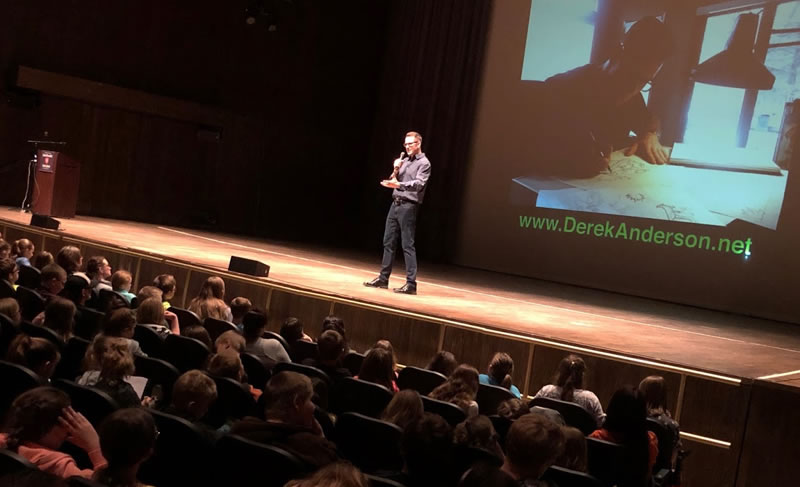 I always allow time for questions at the end of each presentation. I think it's important to hear what the students are curious about. The questions from the kids at this conference were impressive.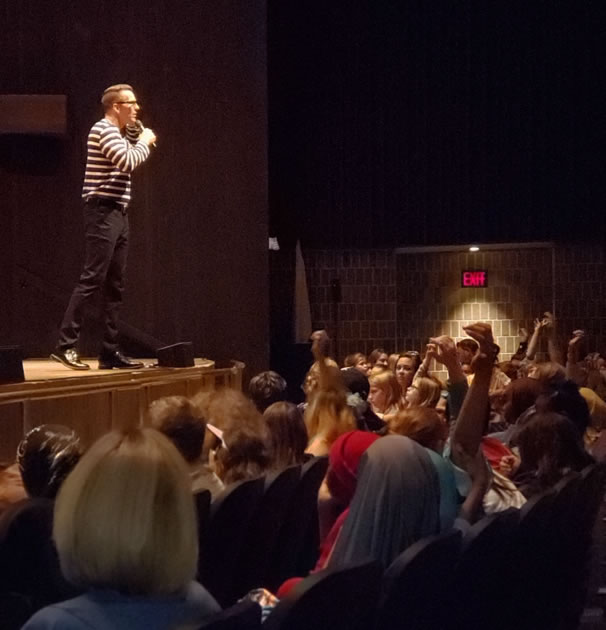 Special thanks to Deb Thomas at Resource Training and Solutions for inviting me to speak at this terrific conference!
Oh, and I made my deadline. My first chapter book is coming out in February 2020. Stay tuned for more!

Tuesday, February 19th, 2019
---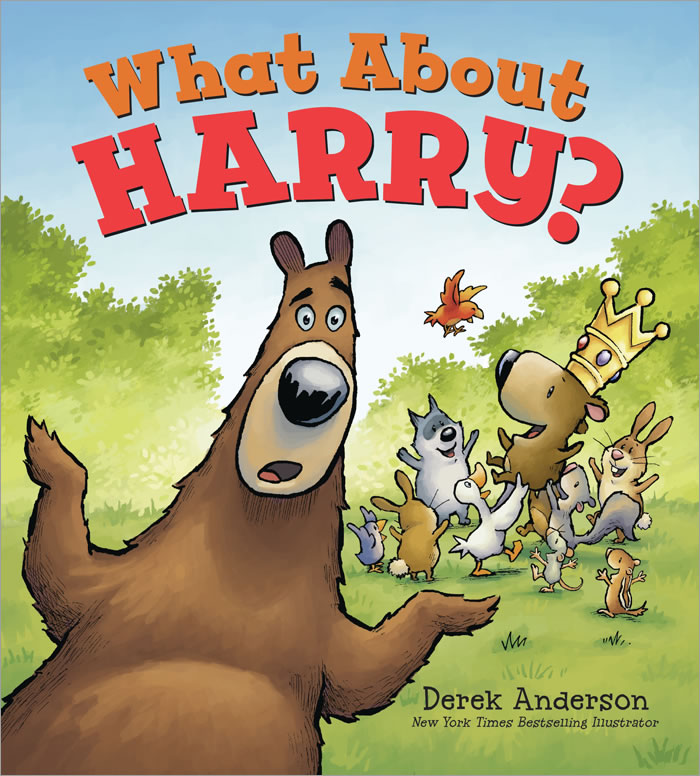 WHAT ABOUT HARRY? is Here!
My new picture book What About Harry? is officially published today!
What About Harry? is the story of two friends who do everything together. They build castles, jump into ponds and swing on swings. They are kings of everything! But when Harry realizes that Sam can build bigger, jump higher and swing better than he can, he decides he'd be happier without Sam. All by himself, Harry can be the greatest! All by himself, Harry is… alone.
Is being the best at everything worth it if you don't have a friend to share the fun with?
Here's what the critics are saying about Harry:
"Little listeners will identify with this thoughtful
(but never preachy) outing."
- Kirkus Reviews
"Anderson's cartoon illustrations build in tension while
offering a portrait of the friends' gleeful reconcilation."
- Publishers Weekly
"Anderson presents a narrative that children will relate to.
The lighthearted life lessons are always presented
optimistically [and] the illustrations are cheerful.
A good selection for classroom and library storytimes."
- School Library Journal
Come and help celebrate Harry's new book this Saturday, February 23rd at 10:30am at Red Balloon Bookshop in St. Paul, MN. I will be reading, drawing Harry (and maybe even his best bear friend, Sam). There will be books available for purchase and signing. And there will be snacks! This is free and open to the public!
Click HERE for more!

Tuesday, February 12th, 2019
---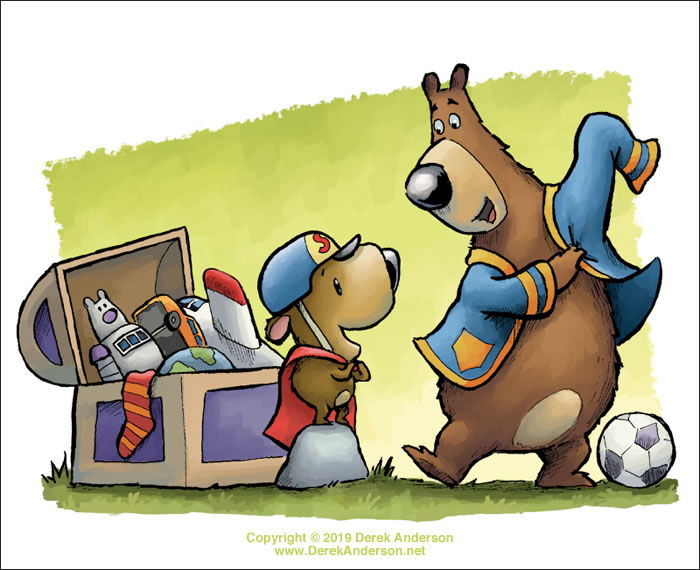 Upcoming Events!
My new book What About Harry? will be out in the world on February 19th! We have several events scheduled to celebrate the release of Harry's new book!
I will be visiting schools in Minnesota, Pennsylvania, Kansas and Kentucky and delivering keynotes and guiding workshops as well over the next months. Those aren't open to the public, so I won't list them here.
Here are some events that are open to the public...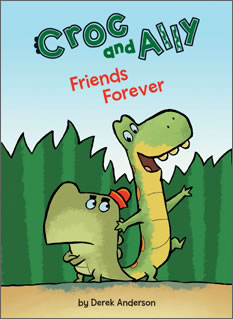 Saturday, February 16th
10:00am
Bookhounds Storytime
with Family Fun Twin Cities
Goodkids
4758 Banning Avenue
White Bear Lake, MN
(Please note- Harry and his new book will not be able to make it to this
event, his book comes out on Feb 19th. But Croc and Ally will be there)
Click HERE for More!
* * *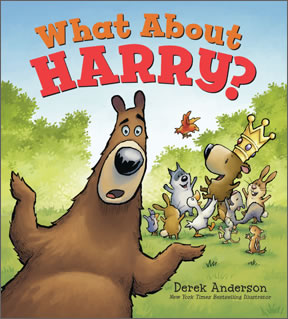 WHAT ABOUT HARRY? Launch Party!
Saturday, February 23rd
10:30am
Red Balloon Bookshop
891 Grand Avenue
St. Paul, MN
Click HERE for More!
* * *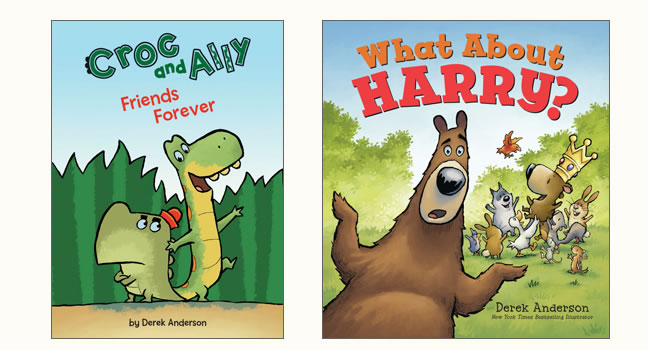 A Hometown Celebration of both
CROC AND ALLY and WHAT ABOUT HARRY?

Saturday, April 13th
10:30am
Iowa State University Bookstore
Memorial Union
Ames, IA
2:00pm
Ames Public Library
515 Douglas Avenue
Ames, IA
Bring your kids, stop by for some book fun and say hello!

Thursday, February 7th, 2019
---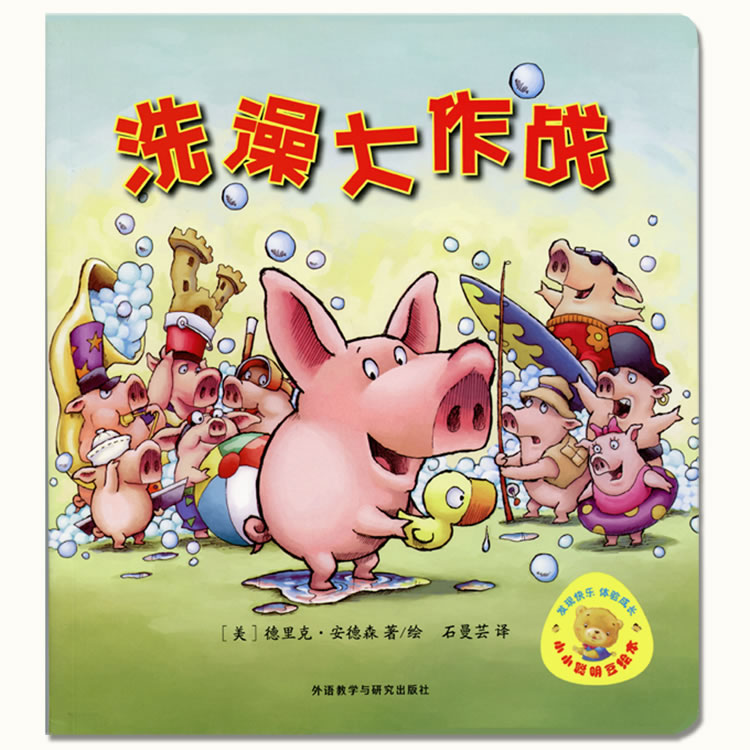 TEN PIGS: AN EPIC BATH ADVENTURE
Goes to China!
What better way to celebrate the Chinese Year of the Pig than with TEN PIGS: AN EPIC BATH ADVENTURE being published in China!
Now, kids all across China will get to splash and surf in the tub along with these ten crazy pigs. I'm so grateful to the terrific team at Scholastic for helping make this happen!

Tuesday, January 29th, 2019
---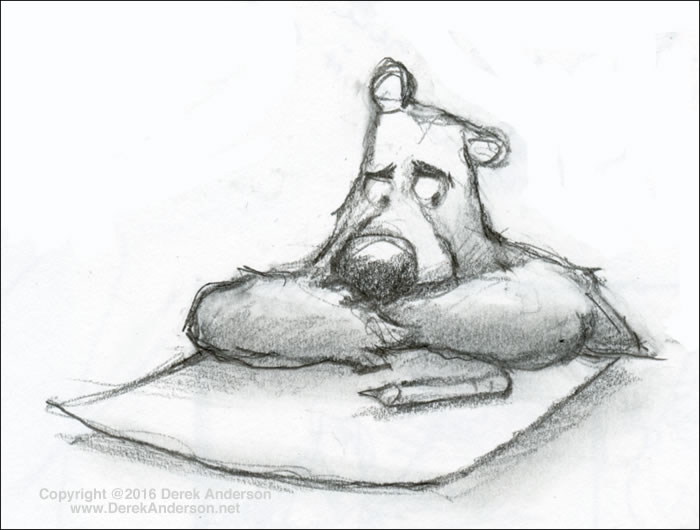 Behind-the-Scenes of
WHAT ABOUT HARRY?
This was one of the early development sketches for my new book What About Harry? Harry doesn't have an easy time in this book. No matter what he does, his friend, Sam, gets all the attention. It was interesting to explore Harry's emotions in the story and artwork— something every kid (and every grown-up for that matter) must face in our lives. What About Harry? comes out on February 19th.

Wednesday, January 9th, 2019
---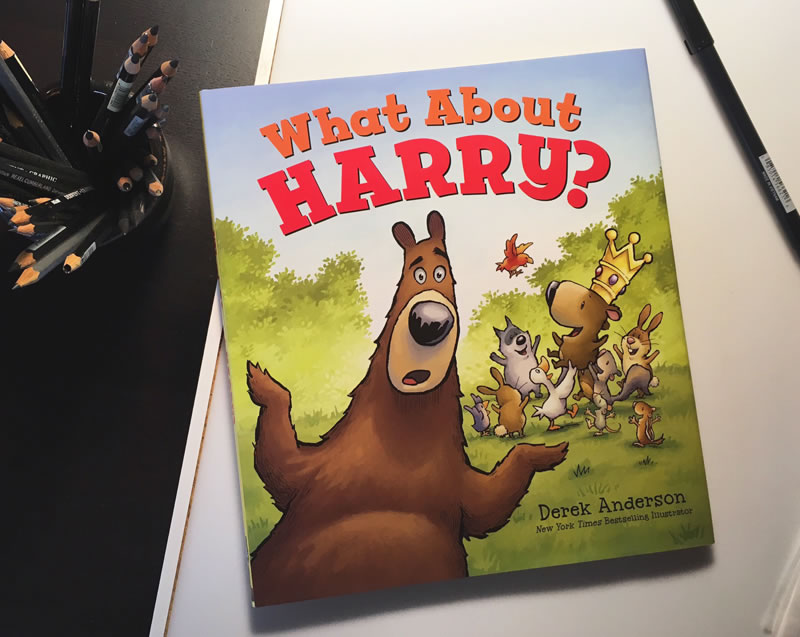 HAPPY 2019!
I Have a Brand NEW Picture Book
Coming in February!
It's called WHAT ABOUT HARRY?
And Other Dragon News...
I just got the first bound copy of my new picture book What About Harry? It's so special to get that first, real copy of a book. What About Harry? is the tenth book I've both written and illustrated.
I can't wait to introduce you to Harry and his best bear friend, Sam. They're coming to bookstores everywhere on February 19th. I will post a schedule of signings and events for this soon along with some fun, behind-the-scenes posts about creating the book.
In Dragon News...
The dragons from Waking Dragons made an appearance in Ames Public Library's Little Theater Display in Ames, Iowa recently.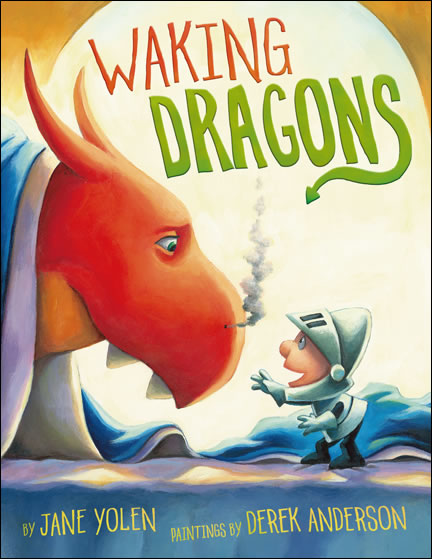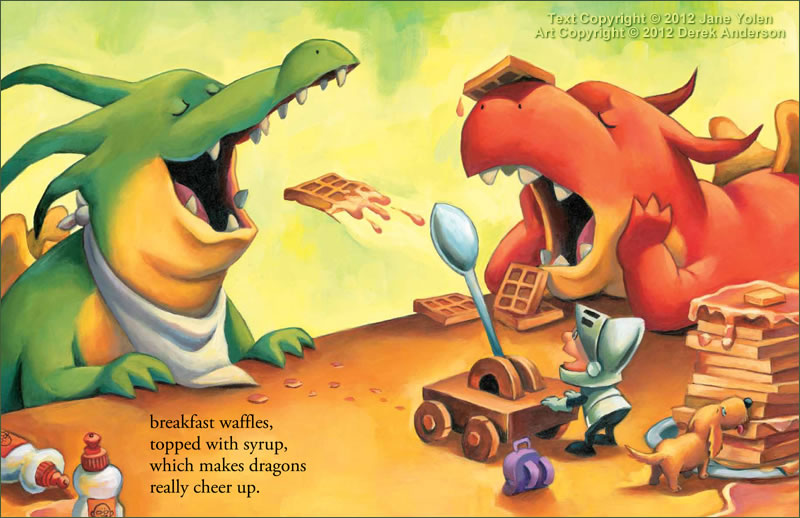 These were created by the talented Christina Robinson. Chris is so good at capturing the smallest details for her dimensional re-creations from books. She even added windows and doors from other scenes in Waking Dragons to add depth and bring the scene to life.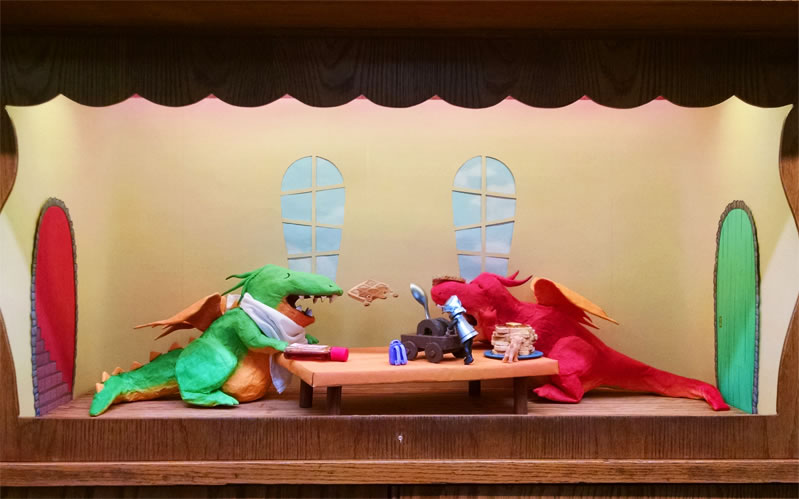 I love how Chris added the syrup to the flying waffle and suspended it in mid air!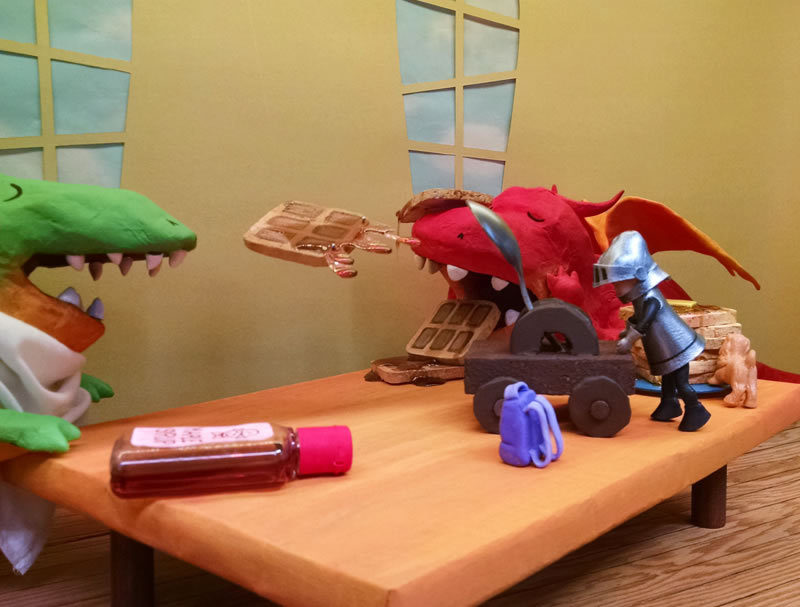 Huge thanks to Christina Robinson and to my friends at Ames Public Library for including Waking Dragons in their terrific theater!

Wednesday, December 19th, 2018
---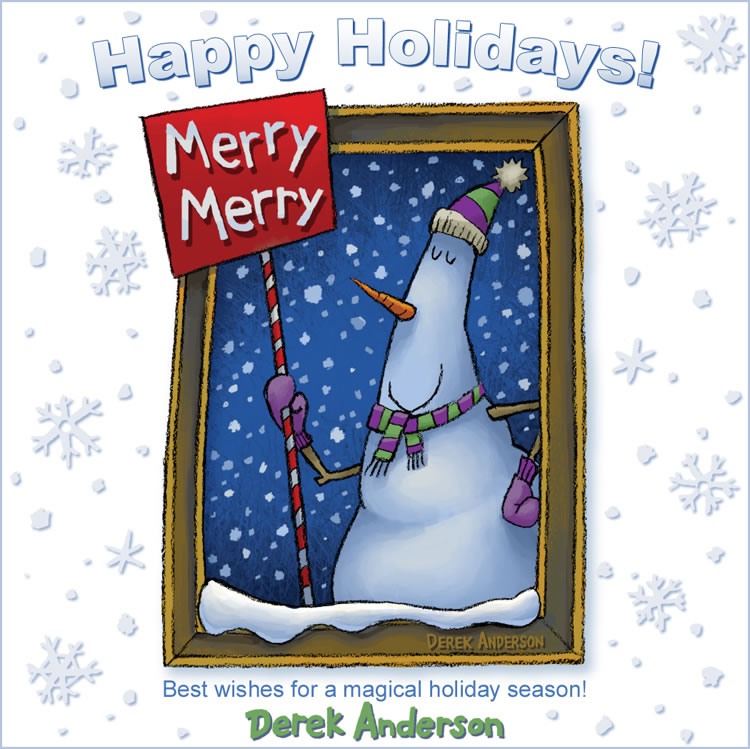 Tuesday, December 18th, 2018
---
BOOK Fun in Kentucky!

In early November I traveled to Bowling Green, Kentucky to speak in several schools over three days. My visits began at Jody Richards Elementary School. Amy Page and the other teachers did such a great job of prepping the students. They put up this terrific display in the media center.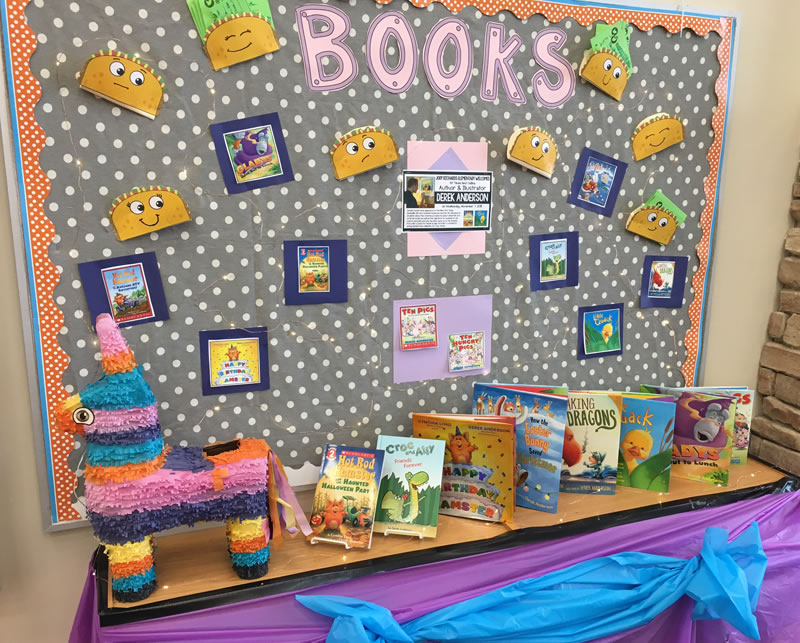 Speaking to a full house at Jody Richards Elementary...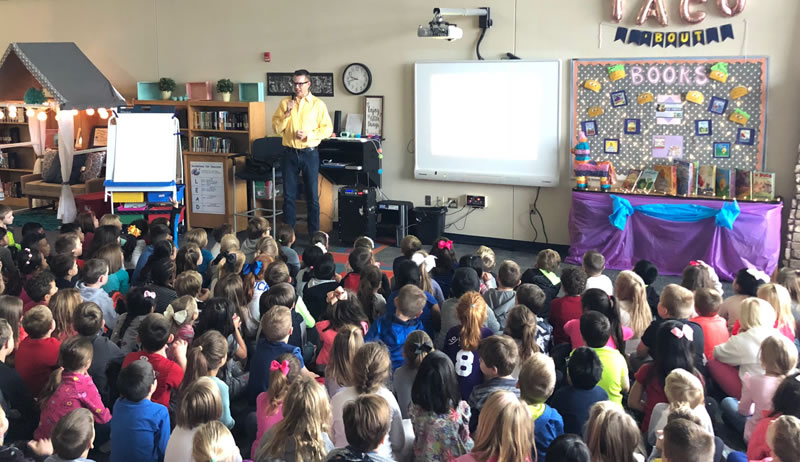 I get asked all kinds of questions when I speak in schools. I honestly never know what students will be curious about. I've been asked nearly everything. But I did have a first at Jody Richards Elementary. After speaking to the youngest group, a boy came up and said he had a question... "Can you come to my house?" I had to explain that I couldn't, but I really appreciated the invitation.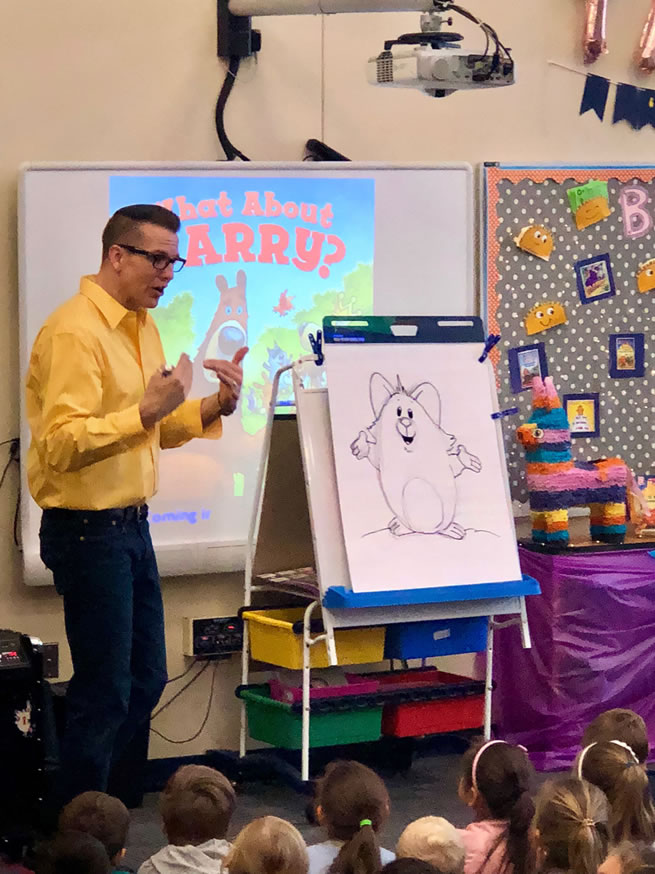 The next day, I visited Cumberland Trace Elementary. I was greeted outside by my book covers lining both sides of the sidewalk leading up to the door. The School Media Librarian, Sharon McCubbins, was super fun to hang out with.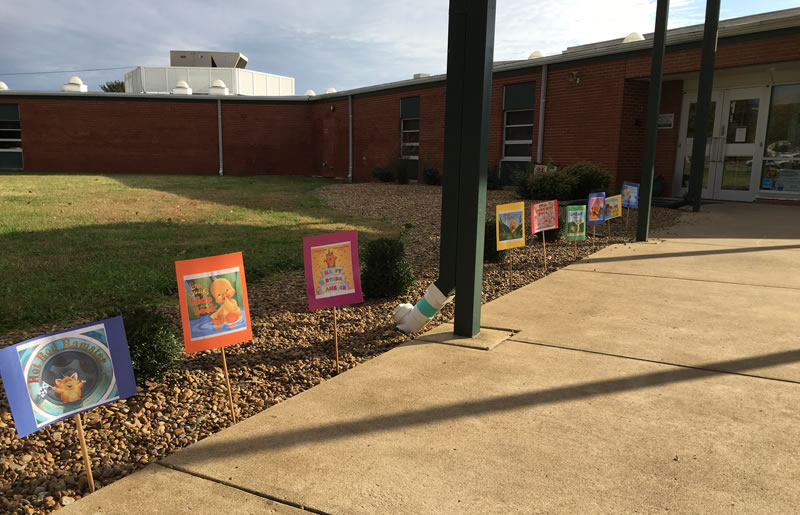 It was such a fun surprise to see all the doors to the library decorated with welcome signs and my characters.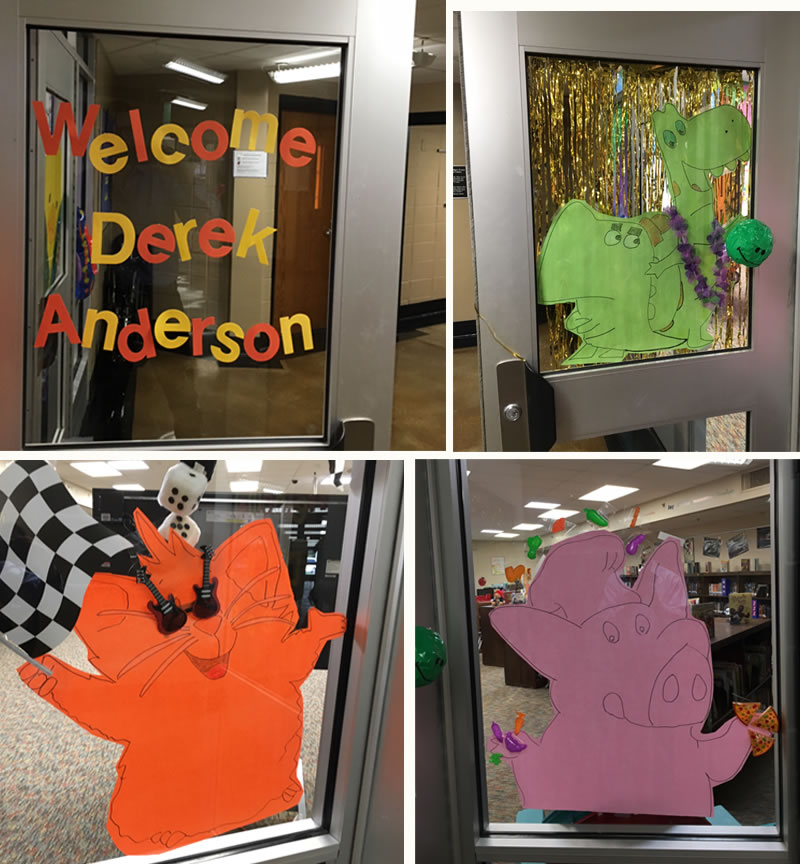 The students were excited and ready to hear all about being an author and illustrator! Here, I'm talking about creating my new characters, Croc and Ally.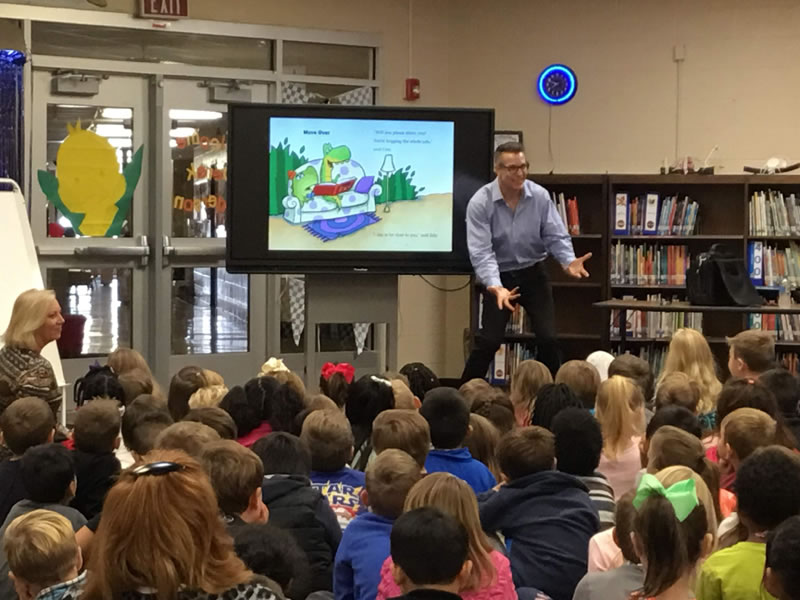 The drawing demonstrations are always fun to do. I often let the students vote on what they want me to draw. Hot Rod Hamster and Little Quack are always popular choices. But lately it has been Croc and Ally because their two new books were just published.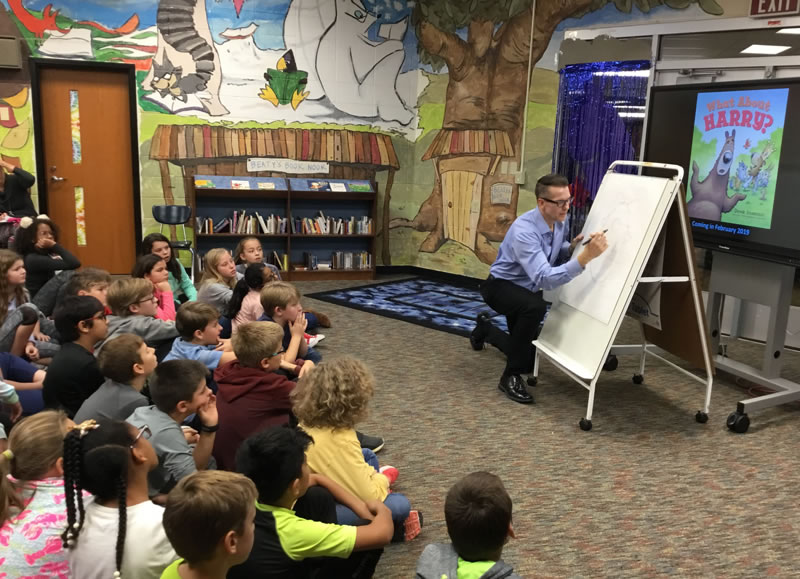 I love speaking to elementary school students!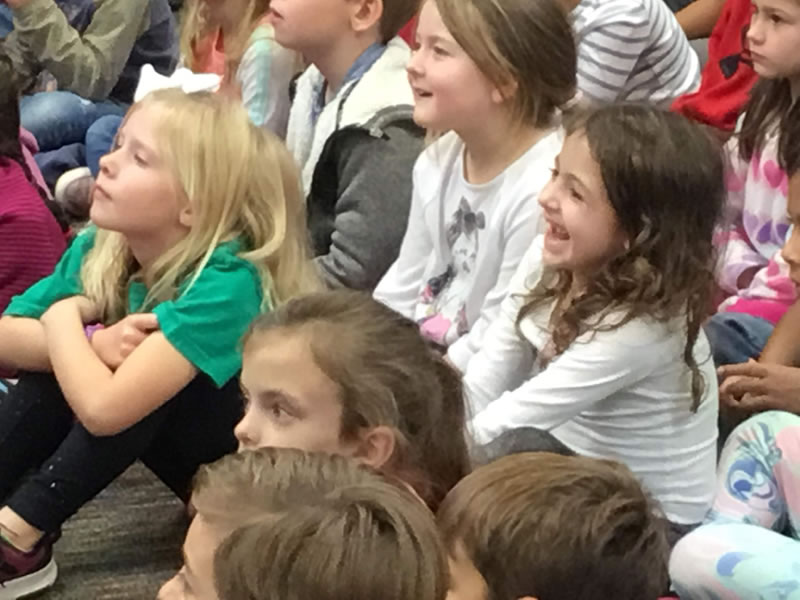 Some excited young readers with their brand new copies of Croc and Ally.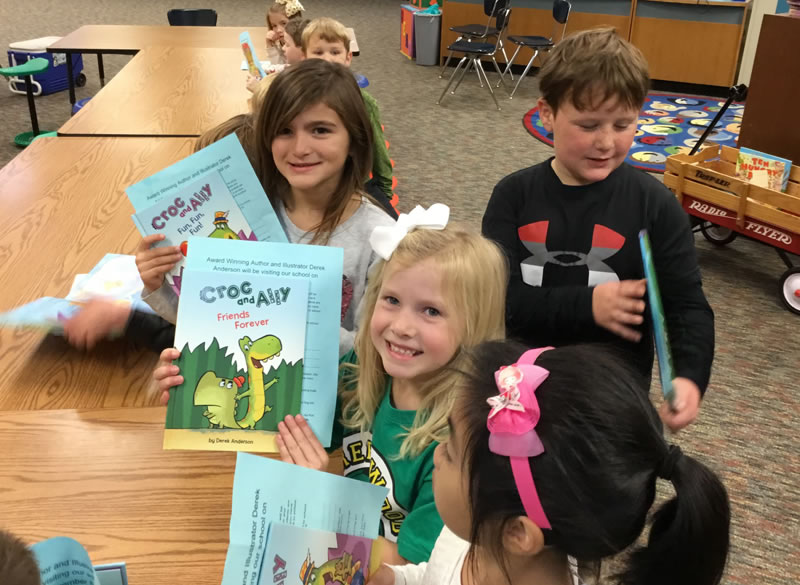 Alecia Marcum came in to help out for the day. She's a huge champion of reading and literacy and was a joy to visit with.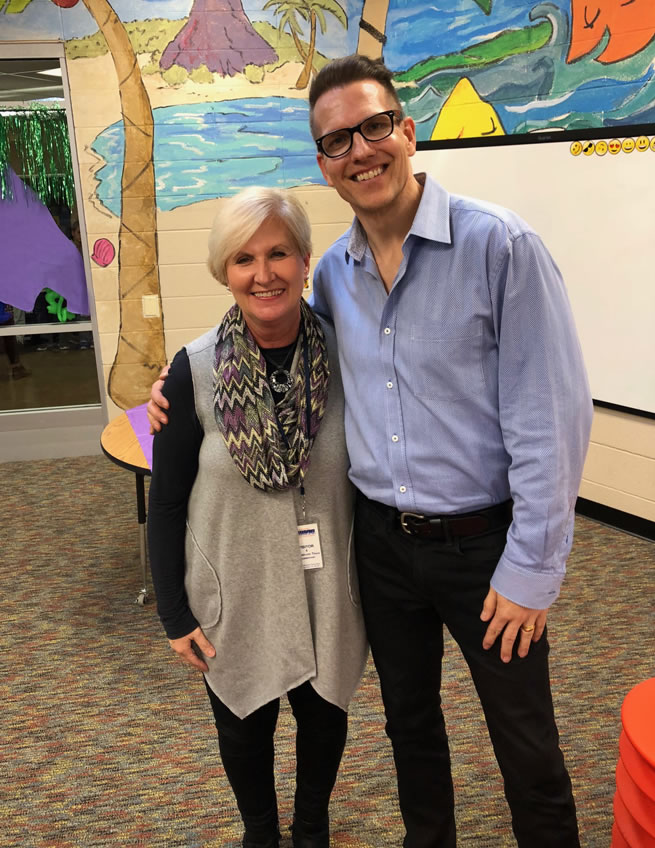 I woke up to pouring rain on Friday morning. It was my last day in Kentucky. I got up early, checked out of the hotel and drove half an hour in a terrible downpour to Red Cross Elementary in Glasgow, Kentucky. The early start and rainstorm were well worth it when I was greeted at the door by Carleigh and Laney. These young ladies were so excited and fun. They showed me the welcome sign and artwork everybody had created for our special day.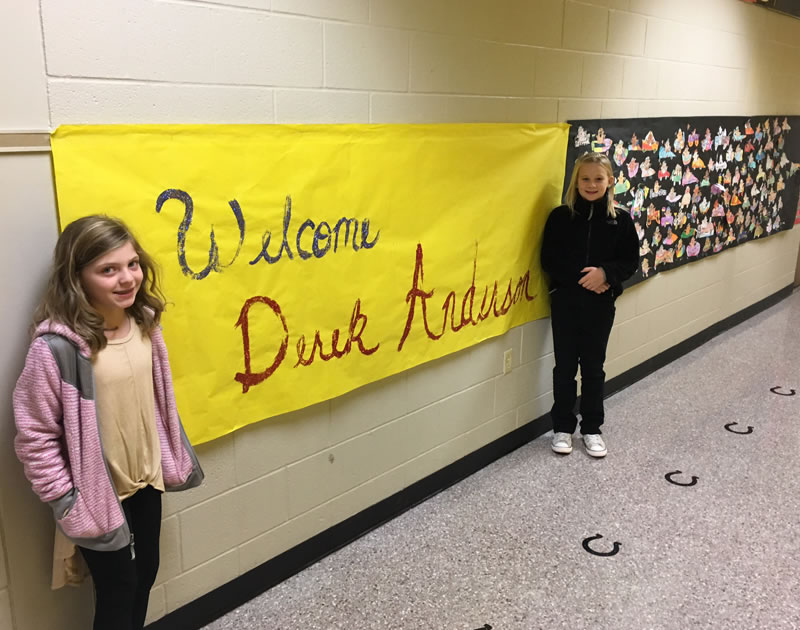 I love it when schools go on my website and download activity sheets for students to use in preparation for my visits. When they've read my books and made something of their own for a book, it sparks their creativity and makes the visit that much more special. Here, the students had made their own cars for Hot Rod Hamster. I love these- no two cars are the same!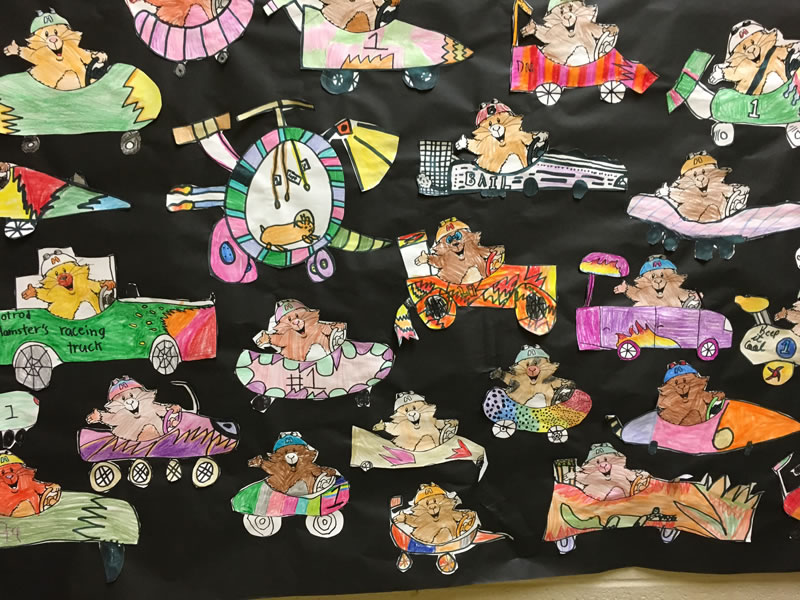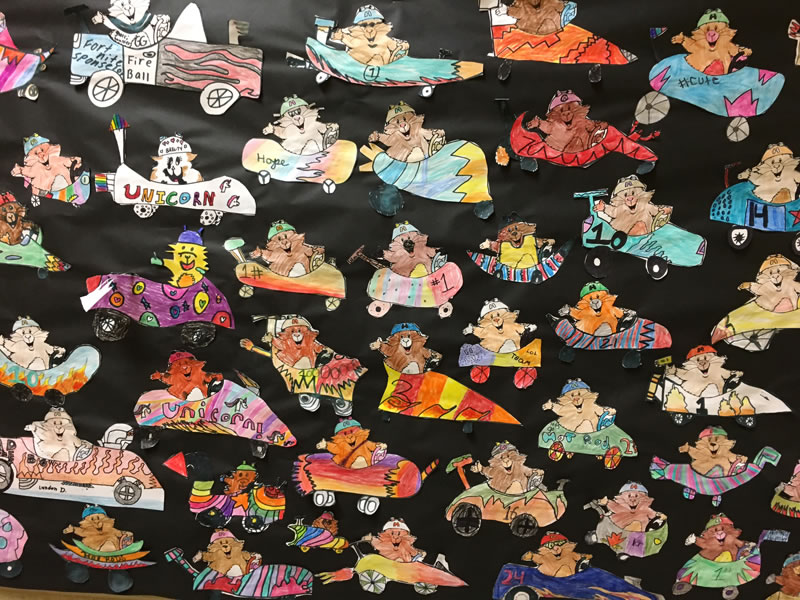 This terrifc display was waiting in the media center. I loved the words they used around the border: Today a Reader. Tomorrow a Leader.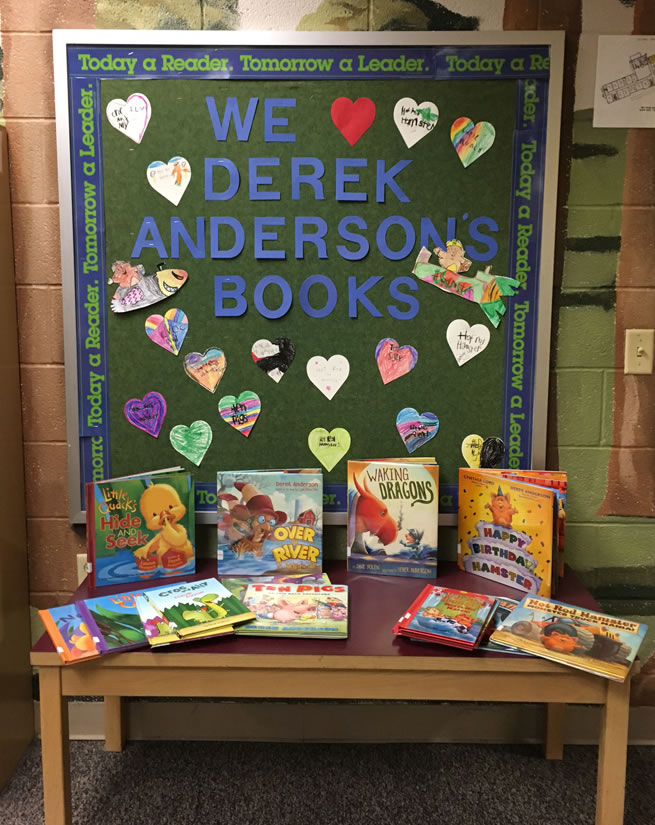 I spoke to the entire school. This was a group of 5th and 6th graders. They always have interesting questions that run a bit deeper. I really get into creativity with this age.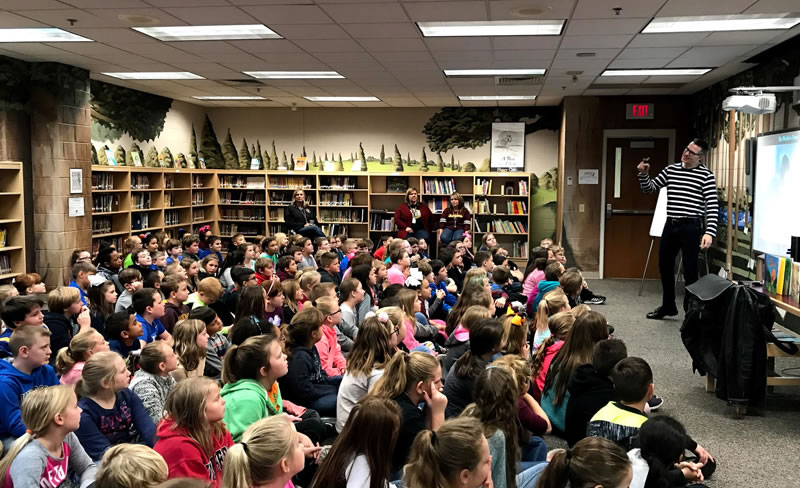 One last picture with my new greeter friends before heading out to fly home.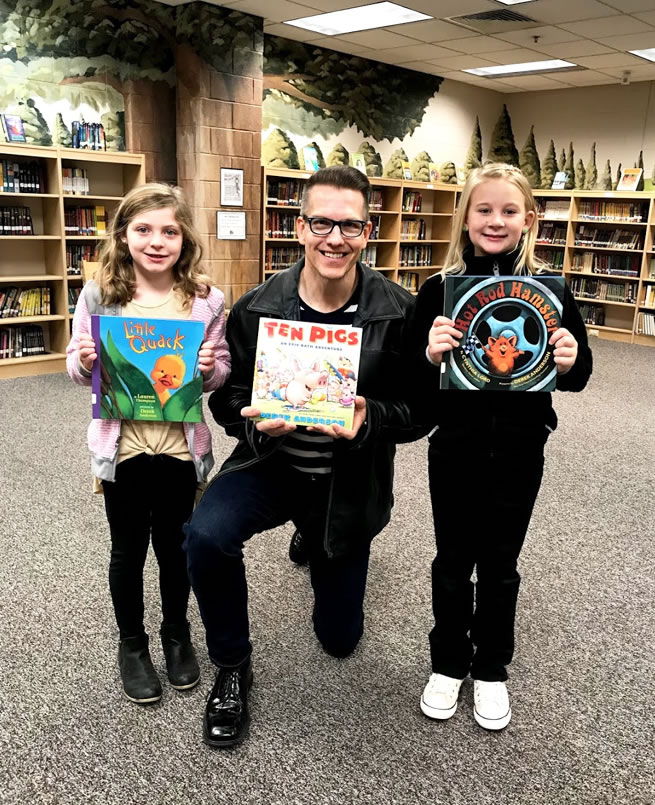 I had an amazing time in Kentucky! Huge thanks to Amy Page, Sharon McCubbins, Amy Shipley and the teachers and principals at Jody Richards Elementary, Cumberland Trace Elementary and Red Cross Elementary. It was such a special week!

Monday, December 17th, 2018
---
BOOK Fun in Utah!
I have a few posts to catch up on. I had a really nice trip to Utah during the first week of October. I spoke at the Davis County Library in Farmington, Utah (near Salt Lake City).
Here, I'm reading (and acting out) one of the stories in my new book Croc and Ally: Friends Forever.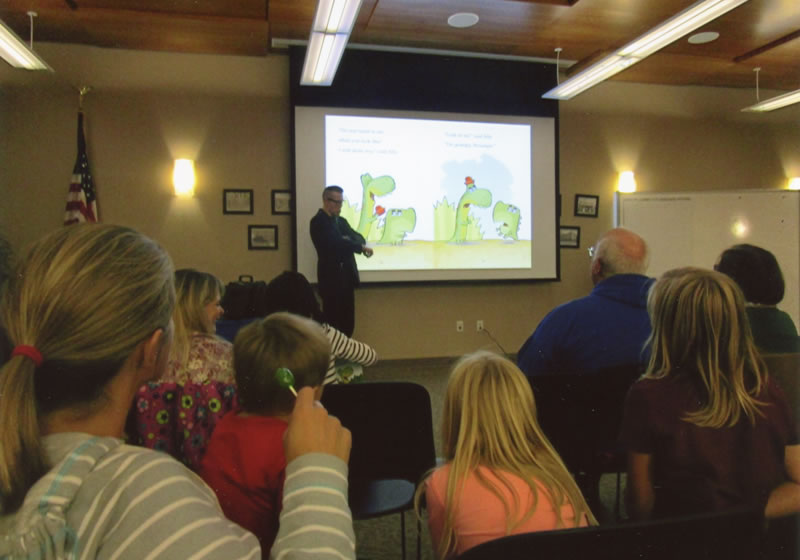 Signing (and chatting) after the presentation...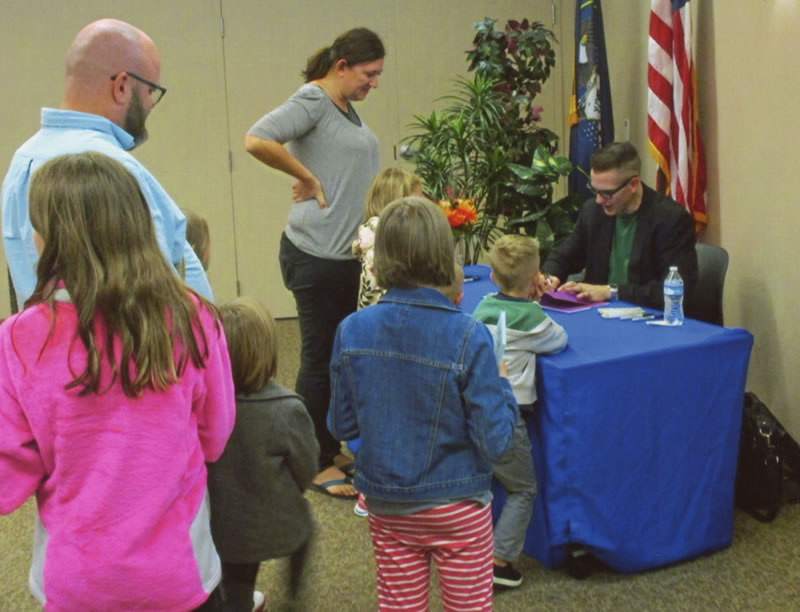 The organizer, Kim Valeika (left), with her daughter. I always do drawing demonstrations for the audience. In Utah I showed how to draw a couple different characters. You can see the drawing of Hot Rod Hamster still hanging on the board behind Kim.
Many thanks to Kim Valeika and everybody at the Davis County Library in Farmington, Utah. And thank you to the families who came out for the fun evening!

Wednesday, December 5th, 2018
---
Some Fun Book News!

Announced by Publishers Weekly yesterday- I have TWO illustrated chapter books on the way! Both will be published by Penguin Workshop in 2020!