Monday, October 29th, 2018
---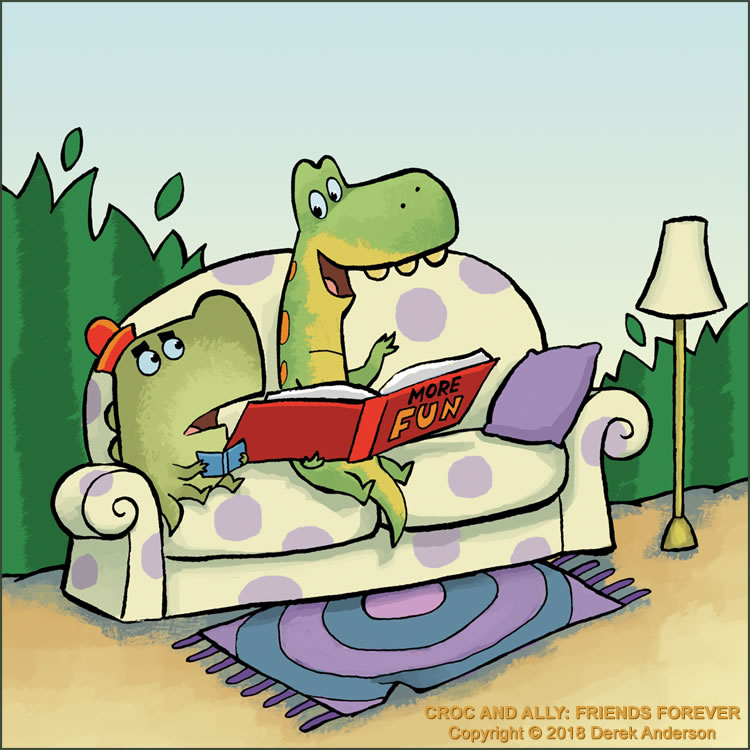 Croc and Ally and I
Will be at EpicFest this Saturday,
November 3rd in Charlotte, NC!

Hey readers and children's book lovers in North Carolina! Croc and Ally and I will be at EpicFest in Charlotte reading and signing this Saturday, November 3rd! Find out all the details on their website HERE.
See you Saturday!

Thursday, October 18th, 2018
---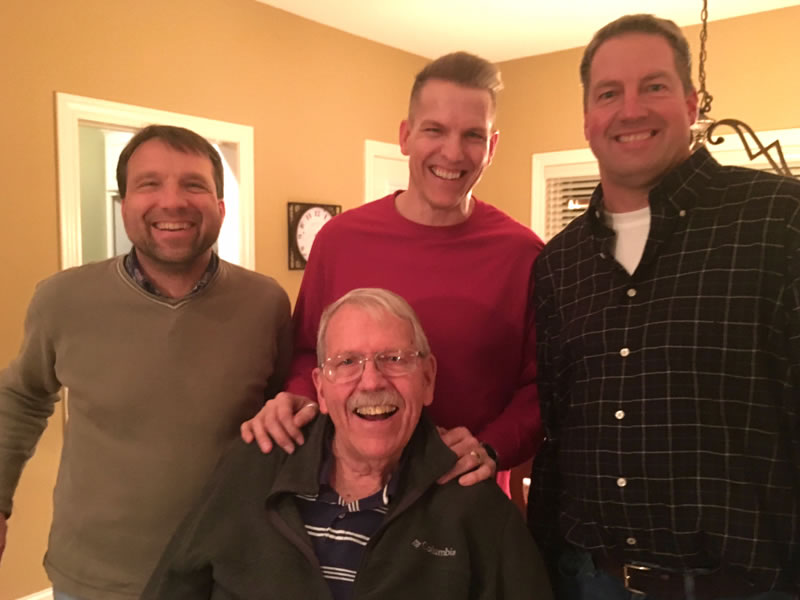 My Events in Ames this Saturday,
October 20th, have been Cancelled.
They Will Take Place at a Later Date...

My father, Marvin Anderson, passed away on Tuesday, October 9th. He was so supportive of my brothers, Dave and Greg, and me. Life hasn't been much fun for him for a while, but my dad wasn't a person who ever complained. I'm so grateful that I got to spend time with him over these past few months. I traveled to see him every chance I could and we had some really nice talks. I'm thankful he isn't hurting anymore, but I really miss him.
We will reschedule the events at the Iowa State University Bookstore and Ames Public Library at a later time.

Tuesday, September 25th, 2018
---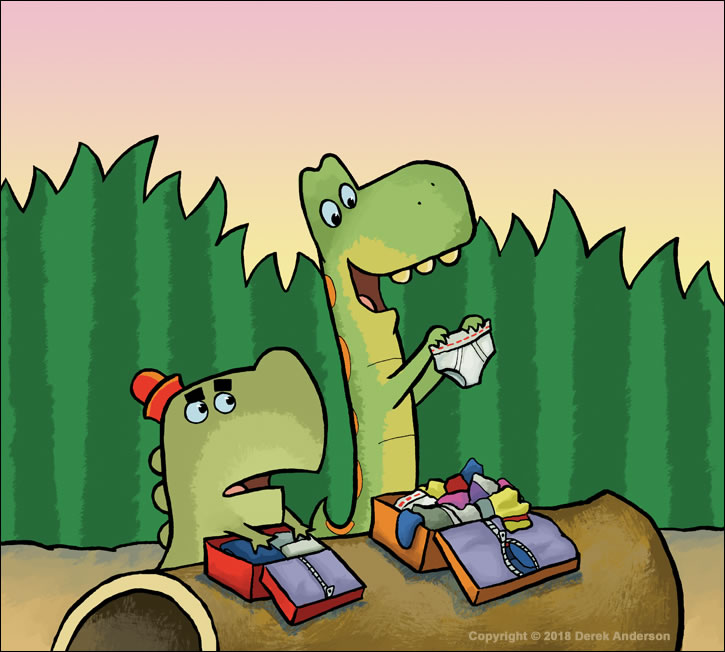 It's Publication Day for Croc and Ally!
Happy BOOK Birthday, Guys!

Croc and Ally are so excited, they've been waiting and waiting for this day! They've been busy packing to travel to bookstores. They can't wait to meet you!
AND... they have a brand new site of their own!
You can click on the picture above or go to www.CrocandAlly.com

Monday, September 24th, 2018
---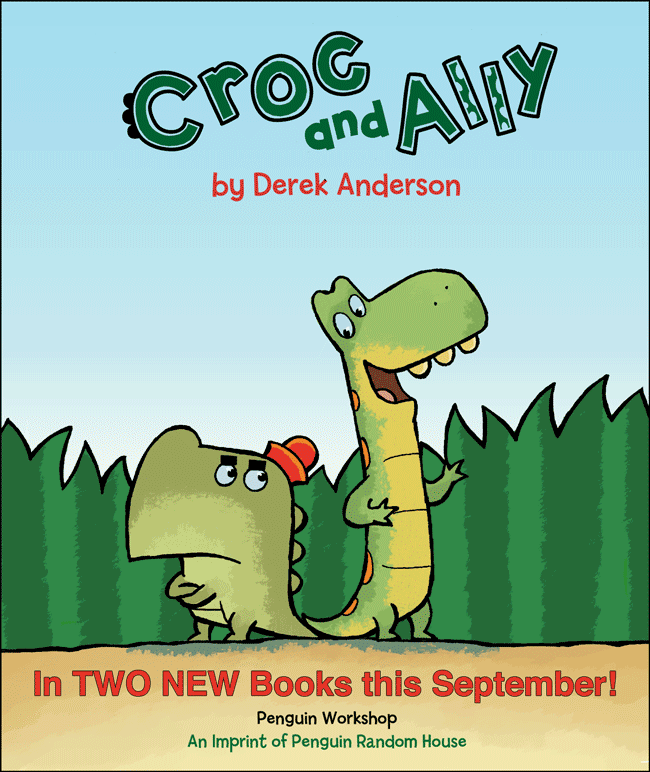 CROC AND ALLY'S TWO NEW Books
Come Out Tomorrow!

And... Pics from
CROC AND ALLY'S LAUNCH PARTY!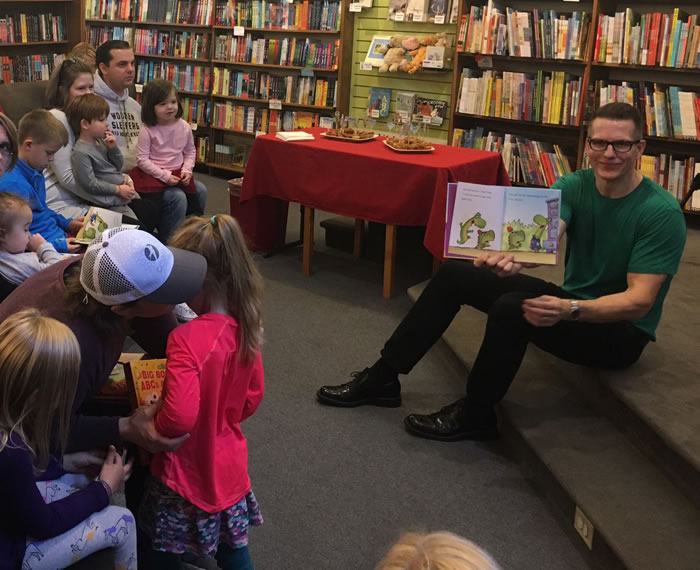 It was so much fun to introduce Croc and Ally to young readers and their parents on Saturday at Red Balloon Bookshop in St. Paul! Our friends at Red Balloon had special permission to have the release a little early (before the official pub date).
They even had trays of Croc and Ally treats! You could choose a Croc treat, an Ally treat, or one with the two of them together.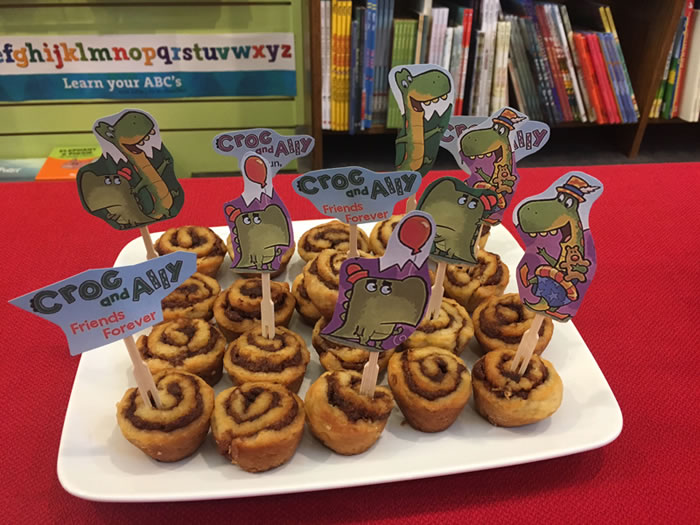 I drew both Croc and Ally for the audience. But I had to have two easels. I didn't want the two of them arguing over who got more space on the paper.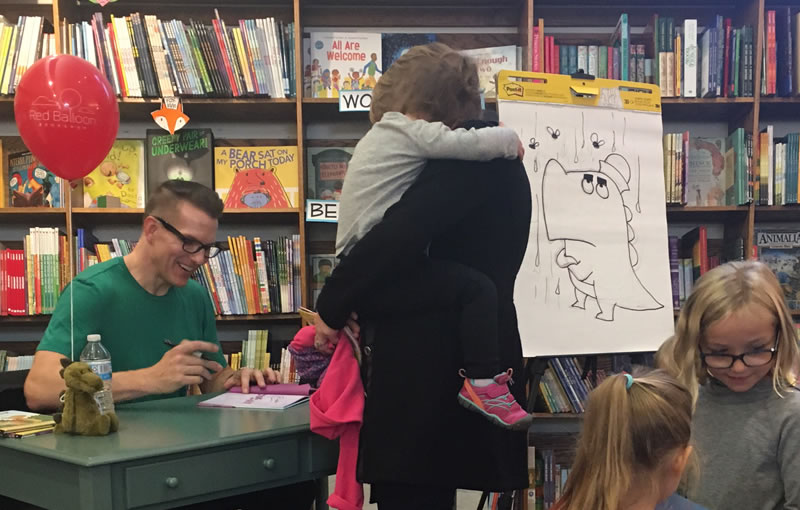 It's always fun to meet new friends and readers!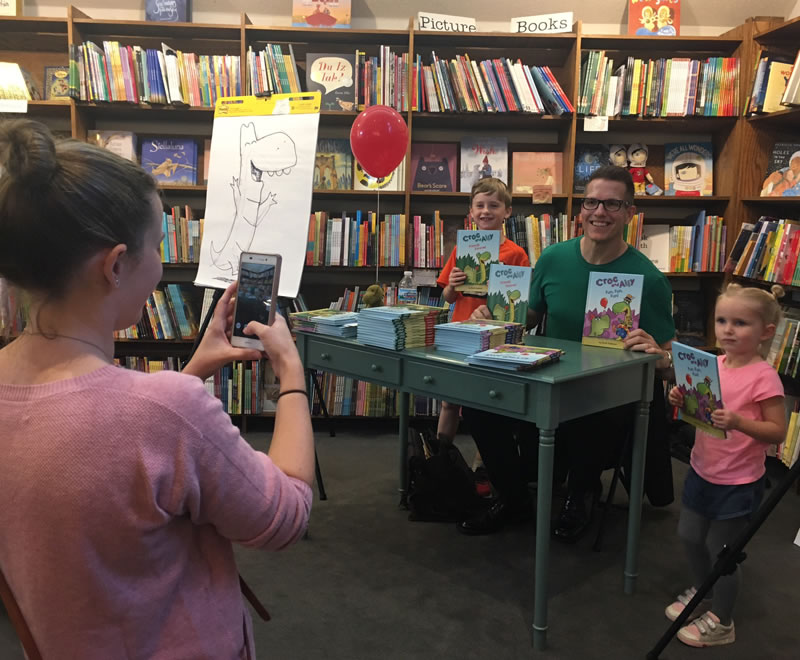 Many thanks to Angela and the whole gang at Red Balloon for such a fun morning celebrating the release of Croc and Ally!

Wednesday, September 19th, 2018
---
CROC AND ALLY at Red Balloon Bookshop
Saturday, September 22nd
at 10:30am

Croc and Ally's TWO NEW books don't officially come out in bookstores until Tuesday, but Red Balloon got a special early release for our launch this Saturday at 10:30am. Come by for some crocodile and alligator fun! You'll learn all kinds of crazy things- what makes crocodiles so grumpy, why alligators have so much fun and I'll show you how to draw them both! And there will be treats!
* * *
CROC AND ALLY Launch Party
in the Twin Cities!
Saturday, September 22nd
10:30am
Red Balloon Bookshop
891 Grand Avenue
St. Paul, MN
Click HERE for More!
* * *
I can't wait to introduce you to Croc and Ally this Saturday!
Stop by for some crocodile and alligator FUN!

Tuesday, September 4th, 2018
---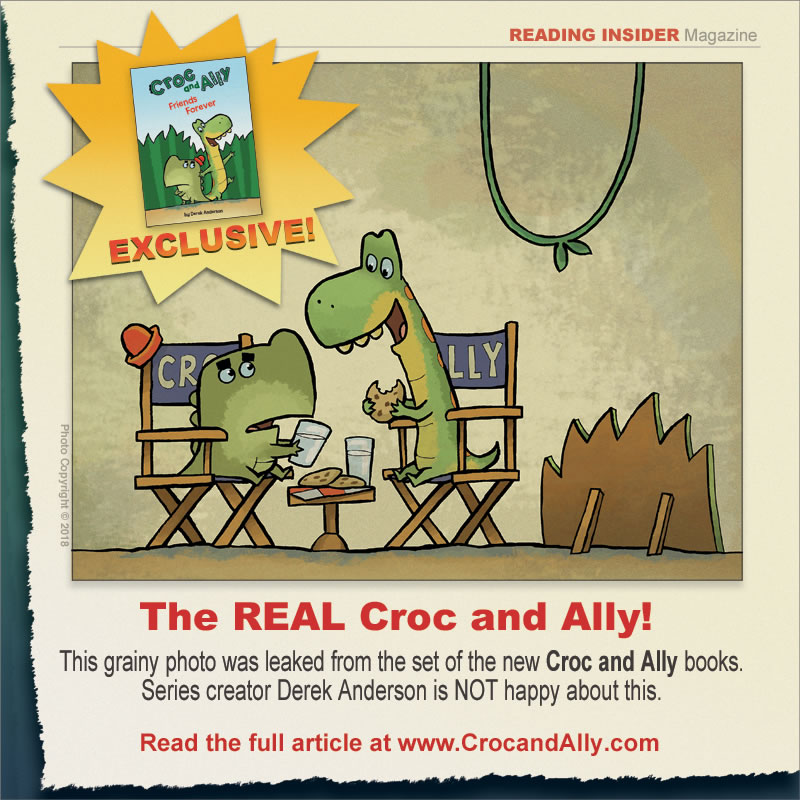 Croc and Ally Photo Leaked
to Reading Insider Magazine

There isn't a lot I can say about this. Books are hard enough to make without things like this happening. Security was tight on the set of the Croc and Ally books, but somebody obviously thought it was okay to take a candid photos of the guys during their break. I promise you we will get to the bottom of this.
To read the article from Reading Insider Magazine, click HERE.

Thursday, August 30th, 2018
---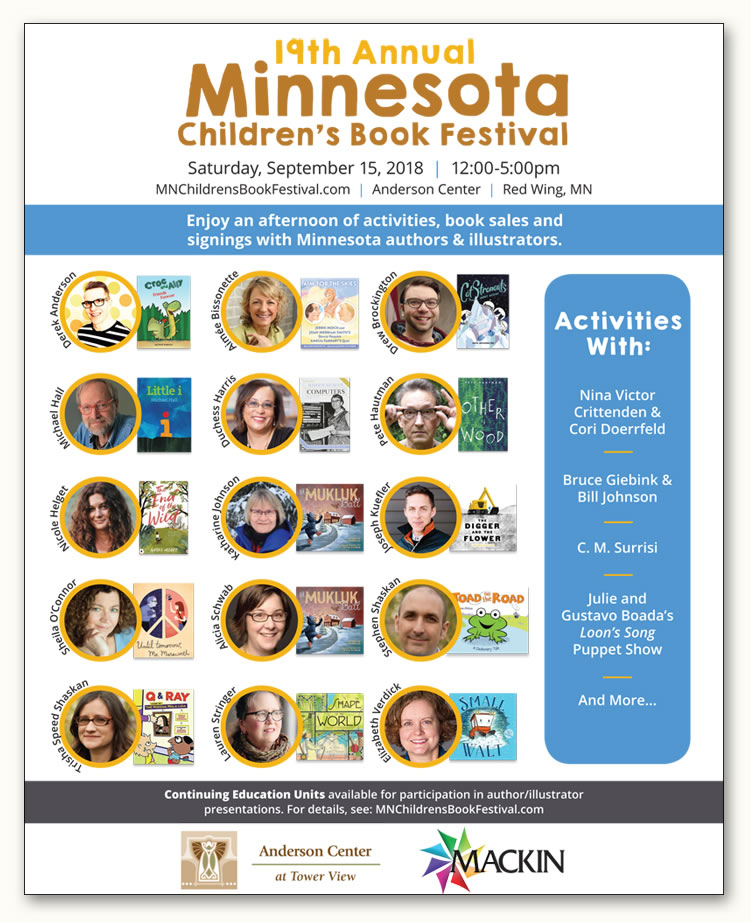 Book Events this Fall!

The new Croc and Ally books will be published in a few short weeks, and I will be out speaking at festivals, libraries and bookstores. I would love to introduce you to my new friends, Croc and Ally! Here are a few places you can catch us...
Minnesota Children's Book Festival
Saturday, September 15th
12pm-5pm
Anderson Center
163 Tower View Drive
Red Wing, MN
Click HERE for More!
* * *
CROC AND ALLY Launch Party
in the Twin Cities!
Saturday, September 22nd
10:30am
Red Balloon Bookshop
891 Grand Avenue
St. Paul, MN
Click HERE for More!
* * *
A FUN Evening with
Author/Illustrator Derek Anderson
Thursday, October 4th
6:30pm
Davis County Library
133 S. Main Street
Farmington, Utah
* * *
Twin Cities Book Festival
Saturday, October 13th
10am-5pm
Minnesota State Fairgrounds
Click HERE for More!
* * *
CROC AND ALLY in Ames!
Saturday, October 20th
10:30am
Iowa State University Bookstore
Memorial Union

2:00pm
Ames Public Library
515 Douglas Avenue
Ames, IA
* * *
SWWC Service Cooperative
25th Annual Conference for Young Artists
Thursday, October 25th
Southwest Minnesota State University
Marshall, MN
Keynote & Workshops
(Grades K-8, Registration required)
Click HERE for More!

For Older Posts, Please Click HERE!