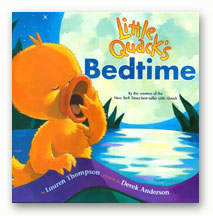 Little Quack's Bedtime Reviews
---
Little Quack's Bedtime is available
at your local bookstore
or online
From School Library Journal
PreS-K-Little Quack and his siblings, Widdle, Waddle, Piddle, and Puddle, are back in this delightful tale that is sure to please even the pickiest of bedtime procrastinators. Mama Duck is trying to get her offspring to sleep when they spy something going "blink! blink! blink!" on the pond. She looks and sees five sleepy fireflies, "winking `good night.' That's what is blinking in the dark. Now it's sleepy time, little ducklings." Widdle closes her eyes, but the others hear "whooo! whooo! whooo!" in the distance. Mama reassures her brood that the sound is part of the natural surroundings, whispering good night in its unique way, and that "Now it's sleepy time, little ducklings." Each time, for every reassurance she gives, another duckling nods off, until only Little Quack is left awake, needing some special comfort before drifting off to sleep. Turquoise blues and greens, shadowy grays and soft blacks, and the fuzzy yellowness of Little Quack and his siblings (replete with individual plumage) act as a soothing blanket, surrounding readers with warmth. Pair this story with Jane Simmons's Daisy and the Beastie (Little, Brown, 2000) for even more ducky fun.-Lisa Gangemi Kropp, Middle Country Public Library, Centereach, NY Copyright 2005 Reed Business Information.
From Kirkus Reviews
Thompson's Mama Duck and her ducklings return in a tender tale about things that go bump in the night. As Mama Duck readies her little ones for slumber, an assortment of sights and sounds alarms them. With infinite patience, she discloses the mundane sources of the frightful occurrences, reassuring her ducklings that they are simply observing the nighttime patterns of familiar objects. When Little Quack reveals the greatest fear of tots of any species, questioning why the night is so dark, Mama's thoughtful response is bound to resonate with readers of all ages. Anderson's sumptuous full-bleed illustrations are in deep evening hues, with the acrylic medium lending a rich texture to the paintings. As always, he draws each duckling with distinctively individual flare, from daisy hairclip to punk sticky-up. Youngsters will readily identify with the ducklings' anxieties and find themselves soothed by Mama Duck's explanations. The gentle cadence of Thompson's tale coupled with Anderson's rich illustrations makes this an ideal candidate for the last story of the night. (Picture book. 2-6)
From Publishers Weekly
The winsome feathered fellow first introduced in Little Quack returns in a board book edition and in a third hardcover companion book, Little Quack's Bedtime by Lauren Thompson, illus. by Derek Anderson. PW said of the debut book, "Anderson's depiction of the adorable ducklings, working up their courage to join their fuzzy siblings will keep toddlers coming back." And the feathered quintet is every bit as adorable in Bedtime as, one by one, Mama dispels their fears of the night. Copyright 2005 Reed Business Information.